Categories
Metal Processing, Parts & Components
Altek Metal Industry and Trade Inc. was established in 1987 and is ISO 9001:2008 and AS 9120 certified.
The company produces 5083 Aluminum Cast Plates under the brand name of Aludur ALT5083 in unlimited choice of thickness.
The major properties are: High strength; Excellent machinability; Superior resistance against abrasion; High corrosion resistance.
The industry sector the company is active in are: Shipbuilding; Aerospace and Defense; Machine and Mould; Tanker and Silobas.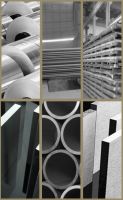 Altek Metal Industry and Trade
Büyükdere Cad. No:122 A Blok 2.Kat 34394, Esentepe, Istanbul, Turkey
+902123066060
+902123369038
aluminyum@altek.com.tr