Last Update
September 29, 2022
Categories
Services (R&D, training, engineering, consultancy, …)
Weapons & Ammunition
Applied Explosives Technology (AET) , established 1988, specialises in the use of energetic materials. AET provides explosive and pyrotechnic products and services to the following industry sectors: Oil and Gas (on and offshore); Mining; Defence; Film and Television.
AET provides a range of services to industries involved in explosive applications and manufacturing activities including: Blasting products, services and support; Special effects Risk analysis, safety assessments and safe work procedures; Predictive calculations including vibration, air overpressure & underwater pulse; Training & supervision; Contract research and development; Trials, testing and performance reporting.
DEFENCE
For the defence sector AET currently manufactures: Charge, Shaped, Demolition, 150mm (CDS 150). And, under licence from the Commonwealth of Australia represented by DSTO, the following Explosive Ordnance Disposal (EOD) Units: EBD80 ("AusDisc"); ELC300 & ELC150 ("AusZipper"); ESC38 ("AusPlastic").
AET has fabricated specialised research shaped charges for Land Engineering Agency and also provides Right Cylindrical and Spherical Composition B charges to AMRL (Marine Platforms Division). AET Ballistic Discs are from time to time purchased through distributors for ADF. AET can offer various cast fill for ordnance items and also PETN / RDX Silicone PBX fills (XTX-8003 / 8004).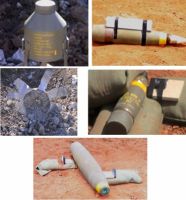 Applied Explosives Technology (AET)
38 Driver Avenue Moore Park NSW 2021, Sydney, Australia
+61 2 9383 4260
+61 2 938 34270
admin@appliedtechnologies.com