Categories
Ships, Vessels, Submarines & related equipment
Services (R&D, training, engineering, consultancy, …)
Shipbuilding has taken place on the shores of the Mediterranean for millennia, and this is exactly where ARES Shipyard is located, on the South Coast of Turkey in the Antalya Free Zone. ARES have their own facilities here, fully equipped for the construction of all their vessels up to 80m in length.
ARES have developed their experience and high level of skills in the design and build of Military and Para-Military patrol vessels delivered to a variety of Navies, Coast Guard Agencies and Maritime Enforcement Agencies across the globe. On the other hand, ARES have been designing and building various types of leisure crafts including motor yachts, sport boats as well as work boats including passenger ferries, harbor control boats, crew and supply boats, search and rescue boats and ambulance boats since their commencement.
ARES Shipyard specializes in working with the most advanced materials, tools and equipment of the day. There is a different approach here at ARES, they are always aware that the working requirements of the vessel, should dictate the specification, rather than starting with a vessel and making it fit the requirements.
ARES remain at the cutting edge in technology, materials and design, fast delivery and procurement program with full participation in decision-making and design processes with their personnel and stakeholders. Furthermore, ARES present integrated solutions for weapon systems, total quality management, comprehensive integrated logistics support services, operational training, taking pride in technical excellence and innovative design. Enabling this, and delivering to the customer, ARES have aligned themselves with the best designers and suppliers from around the world, and actively partnered with premier companies as "key-partners" in each particular area.
ARES Shipyard was founded in 2006 as a family owned enterprise and commenced operations with successful deliveries of small pleasure craft and leisure boats. Thereafter, the Shipyard has gained experience in composite works, ARES have completed entire metal works of a mega yacht project that provided comprehensive knowledge and expertise in high-tensile steel and aluminum builds as well.
After gaining experience in composite, aluminum and steel productions, a critical milestone has taken place in ARES story: strategic decision to build and specialize in "work boats" and "naval craft". In this perspective, ARES Shipyard has initiated meticulous design, R&D and started to make investments especially in marketing, human resources, organizational management, integrated logistics support, quality assurance management, and production technologies to become a global defense industry supplier.
As a yield of intensive studies and investments, remarkable numbers of naval, patrol, utility and support craft have been developed, built and delivered to various global and national authorities such as Coast Guard, Marine Police, Harbor Masters as well as private companies providing marine security.
Security Clearance is a high priority when building military and paramilitary vessels. Therefore during this time period, to become a national and global defense supplier, ARES have accomplished to obtain National Secret Level Security Clearance and has been accredited by the Ministry of National Defense as a NATO Reference Supplier. On the other hand ARES Shipyard has been granted worldwide recognized and distinctive certifications (ISO 14001:2004, OHSAS 18001:2007, ISO 9001:2008) to ensure highest level of Quality Management for its clients as well as other stakeholders.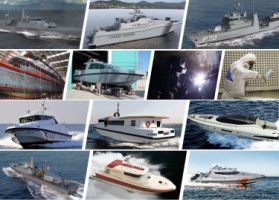 Ares Shipyard
Antalya Free Zone, 07070, Antalya, Turkey
+902422595261
+902422595263
ares@ares.com.tr