Last Update
August 21, 2019
Categories
Textile, Individual Equipment, Clothing
BCB designs and manufactures a wide range of equipment including: Light engineering – hand tools, M.O.E. etc; Innovative clothing; Creams, powders and liquid formulations; Body armour; Food and nutritional products; Webbing and load carrying.
The company also packs many types of rations, first aid kits and survival packs. BCB's Continuous and Never Ending Innovation policy, (CANEI for short), has resulted in hundreds of quality innovative products, many of which were, and continue to be developed in partnership with the world's elite forces.
During the past four decades, BCB has designed and manufactured specialised equipment to enhance the Special Forces soldiers "Survivability" and "Sustainability". These products are now available to Land and Air forces, under Future Soldier Programmes .Another vital requirement of the Future Soldier is C4i for dismounted infantry. Their TACCS Situational Awareness system, (TACCS C4i), effectively brings C4i to the front-line.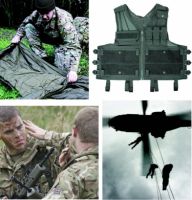 BCB International Ltd.
Howell House, Lamby Industrial Park, CF3 2EX, Cardiff, United Kingdom
+442920433700
info@bcbin.com