Last Update
February 7, 2017
Categories
Electrical, Electronics & Electro-optics
Metal Processing, Parts & Components
Weapons & Ammunition
BELMA is one of the oldest industrial plants in Kujawsko-Pomorskie region, its business activity begun in 1868. They started as a locksmith company which produced devices for rail industry, motorization, defence industry, mining industry and also served other industrial services. Nowadays BELMA is a modern company, EN/ISO 9000 certified, able to satisfy the needs of domestic as well as international clients. BELMA is member of Division Ammunition of BUMAR GROUP.
BELMA has its own manufacturing offices with specialist in mechanics, electrical engineering and electronics, who design modern products and can provide customers a comprehensive "from project to product" service.
MILITARY PRODUCTS
BELMA's products are assigned for mine barrages forming both in throw-on mining systems and standard mining systems of land and coastal area, and for reconnaissance tasks as well as for engineering backup including mine, bomb, dud and IED detecting.
Within the production for national defence needs BELMA can offer: Mine cassettes for scattering system, Antitank mines to manual setting, Off-route anti-vehicle combat landmines, off-route anti-vehicle mock-up and training landmines, Anti-landing troop mines, Antitank surface aircraft-laid mines, Electronic time fuses of rocket artillery, Magnetic fuses and its drill version, Fuses for antitank grenades, Fuses for hand grenades, Throwers, Detectors of mines, Electronic exploders.
EXPLOSION-PROOF PRODUCTS
For over 60 years, BELMA has been a reputable manufacturer of explosion-proof electrical equipment intended for use in potentially explosive atmospheres occurring primarily in mining, shipbuilding and chemical industry.
BELMA offers the following equipment: Flame-proof connecting and distribution boxes for voltages up to 6300V, Reinforced and intrinsically safe boxes, Communication boxes, Ignition line boxes, Connectors and terminals, Single and double switch control buttons, Control boxes, Manual switches, Components for the above equipment (cable and wire glands, covers, plugs, bushing glands), Explosion-proof housings.
INDUSTRIAL SERVICES
For over 30 years BELMA has been cooperating with foreign and national business partners. We provide such services us: metalworking, plasting processing and galvanic coverage.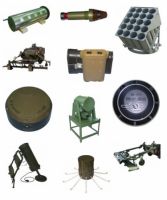 Bydgoskie Zaklady Elektromechaniczne - BELMA S.A.
ul. Lochowska 69, 86-005, Biale Blota, Poland
+48 523 636201
+48 523 636203
bze@belma.com.pl