Last Update
September 29, 2022
Categories
Counter-measures, Electronic Warfare and Decoys
Electrical, Electronics & Electro-optics
Weapons & Ammunition
Chemring Australia is a leading developer, manufacturer and supplier of high quality energetic materials and products for the Defence and Safety markets. With more than 100 years' experience in the field, the company has built a reputation for supplying high quality products – on time and to customer's precise specifications.
Chemring products include Pyrotechnics, Countermeasures, EOD/IEDD and Force Protection Capability solutions for military, law enforcement, industry and safety customers. The company maintains designs, develops, manufactures, tests, evaluates and supports capabilities at their facility at Lara and Mulgrave in Victoria, Australia.
PYROTECHNICS - Chemring Australia is a leading developer and manufacturer of high quality military pyrotechnics that meet the demanding requirements of defence and internal security operators within Australia and all over the world. The pyrotechnics product list includes: Smokes and flares; Line throwers; Smoke payloads; Distraction and screening grenades; Markers; Battlefield simulation products; Battlefield illumination; Incendiary devices; Impulse cartridges and cartridge actuated devices.
COUNTERMEASURES - Chemring Australia provides the world's most advanced expendable countermeasures and countermeasure suites for protecting air, sea and land platforms against guided missile threats. The countermeasures product list includes: Chaffs; Conventional and advanced flares; Naval countermeasures; Special material decoys.
EOD/IEDD - Chemring Australia alongside Chemring Group and a select portfolio of global equipment manufacturers supplies innovative route proving and clearance, CBE threat detection, EOD and military demolition solutions.
FORCE PROTECTION - Chemring Australia supports the establishment of an Australian capability to support the design, development, systems integration, manufacture and support of complex electronic systems.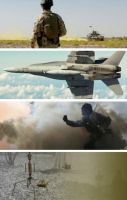 Chemring Australia
230 Staceys Road, Victoria, 3212, Lara, Australia
+61 3 5220 8500
+61 3 5282 3545
info@chemring.com.au