Categories
Ships, Vessels, Submarines & related equipment
Services (R&D, training, engineering, consultancy, …)
Infrastructure, Construction & Civil Engineering
Maintenance Repair Overhaul and Logistics Support
Established in 1974, Colombo Dockyard is Sri Lanka's leading ship repair, shipbuilding, heavy engineering and offshore engineering facility. Conveniently located within the port of Colombo, the hub of all major shipping lanes connecting the West, the Middle East, the Far East, as well as Africa and Australia, Colombo Dockyard has a strategic advantage to conduct both dry dock and afloat operations. Colombo Dockyard, as a state of the art engineering entity, operates four graving dry docks with a maximum capacity of 125,000 DWT and extensive repair berth facilities.
Ship Repairs
In the ship repair sector on average, Colombo Dockyard handles over 200 vessels annually with 100 accommodated in dry-dock and the balance accommodated at alongside repair berth. Colombo Dockyard is capable of handling all routine, damage and retrofit repairs. Colombo Dockyard operates four graving dry-docks with a maximum capacity of up to 125,000 DWT and over 1000 meters of fully serviced alongside repair berths.
Shipbuilding
Colombo Dockyard's shipbuilding activities commenced operations in 1974 with the construction of small tug boats, patrol boats and barges which has now transformed into a major income earner for the company. The company has been successful in securing orders from both local and overseas clients by competing with leading shipbuilders worldwide and currently occupies an enviable position in the worlds elitist group of shipbuilding yards that specialize in the construction of high powered and complex tug boats as well as aluminium hulled high speed boats.
Vessels built include: Multipurpose Platform Supply Vessels; Platform/ROV Support Vessels; 80 T BP Anchor Handling Tug Supply Vessels; 130 T BP Anchor Handling Tug Supply Vessels; 5 – 65 T BP Harbour Berthing Tugs; Aluminium Hull High Speed Boats; Coastal Surveillance Vessels; 35 m Fisheries Protection Craft; 40 m Fisheries Protection Vessel; Landing Craft; Fast Landing Craft; 250 Passenger Cum 100 T Cargo Vessels; Pilot Launches; Mooring Launches; Fire Cum Patrol Vessels; Crew Boats; Split Hopper Barges; Deck/ Water/ Cargo Barges.
The company's ability to carry out the construction of these vessels to meet the requirements stipulated by stringent international Classification Societies, whilst customizing the vessel to surpass all stated and implied requirements of the customer, has paved the way for the company's stupendous growth in the Shipbuilding Sector.
Offshore Engineering
Colombo Dockyard has made significant progress and been able to forge into top end repair markets in the offshore sector. The Offshore Engineering division has managed some unique retrofits and repair work creating history in the local maritime industry. Some noteworthy projects completed in the offshore sector include: Major Layup Repairs on Mobile Offshore Drilling Unit (MODU) Sagar Vijay; Retrofit Repairs on Floating Dock Navy 1; Major retrofit repairs on Ocean Research Vessel Sagar Kanya; Dry Dock repairs on MV Geo Explorer.
Heavy Engineering
Colombo Dockyard specializes in petrochemical installations, which includes among others: Fuel storage systems; LPG storage systems; Cement silos; Piping systems (Oil, LPG, Fire Fighting and Offshore facilities); Supplying ancillary services for the installation of storage systems and pipe systems (this includes repair work as well); Installation of power stations (Thermal power stations, Mini Hydro power stations, Alternative Energy Generation, Fuel Storage Systems and related piping systems); Main engine (modification and repair work).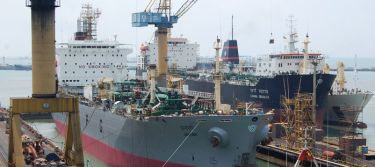 Colombo Dockyard
P.O. Box 906, Port of Colombo, Colombo, Sri Lanka
+94112429000
+94112329479
coldock@cdl.lk