Last Update
July 17, 2020
Categories
Infrastructure, Construction & Civil Engineering
Maintenance Repair Overhaul and Logistics Support
Military, Tactical, Logistic Support Vehicles & related equipment
Services (R&D, training, engineering, consultancy, …)
Ships, Vessels, Submarines & related equipment
Adaptability is our promise
Roll Group offers a total solution on transportation, lifting and installation of heavy cargo. Operating under one name, the forces of the companies RollDock, BigRoll and Roll-Lift are strengthened.
RollDock owns five and operates six dock-type vessels, which all have the option of three loading modes - Roll-On/Roll-Off, Float-In/Float-Out and Lift-On/Lift-Off. The semi-submersible aspect of the RollDock vessels enables other ships and floating equipment to sail into the dock of the RollDock vessel. The high dock walls and the possibility to provide incoming ships with cooling water and power make the RollDock vessels even more suitable for the transport of naval ships.
Naval ships must be transported accurately and often with the necessary discretion. Roll Group have been the partner of choice for navy's and naval ship builders to provide the logistical solutions for the worldwide transportation of valuable equipment, such as submarines, corvettes and fast missile craft. Roll Group gained a lot of experience and knowledge over a large number of projects, working according to strict country rules. Each project is meticulously planned and handled with the utmost precision and care. Our engineers are able to design custom made frames and saddles, which perfectly fit to the shape of the hulls.
Besides this niche industry, Roll Group's asset base ensures the ability to serve a wide range of markets and industries, such as: Oil & Gas, Petrochemical, Renewable Energy, Power, Civil Construction, Dredging, Offshore and Yachting.
Roll Group's philosophy is that our land/sea combination enables us to offer 'Factory to Foundation' solutions - to bring heavy cargo from the place of manufacturing to its final destination for installation. With an innovative and diverse asset base and ability to adapt, Roll Group takes care of heavy cargo and provide effective, innovative and sustainable services, using our unique engineering know how.
Besides the RollDock vessels, Roll Group owns three BigRoll Module Carriers, which are ice-classed and (ready to be) equipped with DP2. On the land side Roll‐Lift operates a large number of modern heavy lift cranes, Self-Propelled Modular Trailers (SPMT's), Conventional Trailers, Gantries and Jacking & Skidding equipment. Roll Group is headquartered in Rotterdam, the Netherlands, and strategically based in Houston and Singapore. In addition, Roll Group may rely on its satellite offices and an extensive network of agents.
INTERVIEWS
Interview with Mr. Paul Meester, Business Development Manager at Roll Group (May 22, 2020) Source: Epicos (link)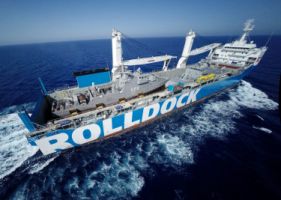 RollDock
RollDock handles the heaviest cargoes with an innovative fleet. The dock-type vessels are extremely flexible due to their three loading modes - Roll-On/Roll-Off, Float-In/FloatOut and Lift-On/Lift-Off - each of which can be utilized and combined according to any circumstance. As part of Roll Group, RollDock benefits from essential in-house knowledge gained from the experience of serving a wide range of markets, such as Oil & Gas, Petrochemical, Renewable Energy, Power, Civil Construction, Dredging and Naval. Transporting the heaviest cargoes around the world can be challenging, which is why we cooperate with our clients and fully utilize our engineering capability. RollDock has the ability to advise on the best design options for modules, transportation solutions and preferred routings.
TECHNICAL SPECIFICATIONS
To accomplish every transportation safely, smoothly and on time, we can rely on our modern fleet of vessels. Both generations of vessels have the ability to tackle the most challenging transportation requirements. The S-class with hold dimensions of 116.20 x 19.00 x 8.10 m, and the STclass with 119.44 x 19.40 x 8.10 m hold space, are able to submerge to a depth of 12.5 meters creating a draft in hold of 6.6 meters for Flo-Flo operations. The ramp/deck design in combination with the ballast tanks makes it possible to successfully match with any quay height. The stern ramp allows Ro-Ro cargo up to 4,000 mt and 4,500 mt per unit respectively, and the deck cranes can lift up to 350 mt, or 700 mt in tandem lifting.
The special design of the RollDock vessels have many benefits. The dock walls offer protection against nature's elements, while the hatch covers maximize the surface of the loading deck. The innovative Octopus motion monitoring and prediction system safeguards limited cargo accelerations, and during the voyage we can provide the cargo with utilities to enable maintenance opportunities.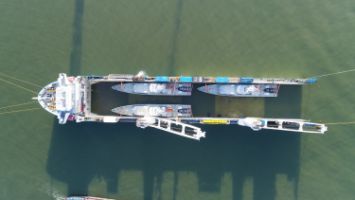 BigRoll
With an innovative fleet of three unique vessels, BigRoll transports the world's most extreme modules. The ice-class BigRoll Module Carriers have already undertaken a number of challenging voyages. With a length from 146 to 173 meters, the MC-Class vessels cut an impressive figure. They have been especially designed to transport the heaviest modules, offering solutions for onshore and offshore heavy transport projects. Due to the specific characteristics, the Module Carriers are extremely flexible and have the ability to carry any large cargo - not only modules but also items such as completely assembled port cranes or windmill blades.
The BigRoll Bering and BigRoll Beaufort have been operational since 2016 and 2017 respectively, were constructed in accordance with Finnish Swedish 1A Ice Class regulations and designed with a focus on low fuel consumption. To ensure safe transportation of the heaviest cargoes across the world's oceans we place our engineering capability at the forefront of every project we undertake. As part of Roll Group, BigRoll can benefit from in-house essential knowledge and over a decade of Ro-Ro experience. Our team consists of dedicated professionals in a wide range of disciplines such as safety, quality, marine engineering and project management. They are involved from the earliest phase of project planning right through to the execution stage and ultimately project completion. At the start of 2020, Roll Group acquired a new vessel - named BigRoll Biscay - which was originally built in 2015.
TECHNICAL SPECIFICATIONS
The entire deck surface of the MC-Class vessels can be utilized offering an abundance of space with a length of 125 meters and a width of 42 meters (BigRoll Bering and BigRoll Beaufort) and 123.8 x 32.20 meters of deck space onboard the BigRoll Biscay. The completely flush deck is highly suitable for Roll-On/Roll-Off and SkidOn/Skid-Off operations. Due to the high ballast capacity of at least 12,000 m3/h and a deck strength of 20 t/sqm (all vessels), BigRoll ensures safe and efficient transportation of extreme cargoes.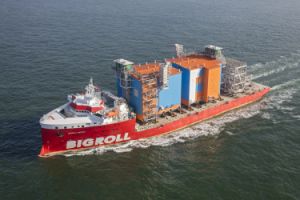 Roll-Lift
Operating in the world of heavy lifting often means overcoming challenges and taking responsibility. Roll-Lift utilises extensive knowledge gained from years of experience lifting and transporting heavy, oversized cargo to provide safe, practical and cost-efficient solutions to the needs of our clients. Working with Roll-Lift means we alleviate your concerns. We have the in-house ability to review all available options and provide a fully comprehensive 'Factory to Foundation' solution. Our wide range of equipment enables us to complete the most demanding heavy lifting and specialist transport projects.
With our experienced team of operators, supervisors and engineers we operate specialist cranes and handle load-in and load-out operations with highly manoeuvrable equipment. We undertake every project from concept to completion and have the ability to prepare fully comprehensive route studies incorporating full knowledge of local and international regulations. Combined with the services of our associated Roll Group companies, we have the ability to provide integrated or stand-alone marine transportation services.
STATE-OF-THE-ART
Every lifting, transport and installation project has unique characteristics. State-of-the-art equipment and experience-backed knowledge are required in order to undertake projects safely, successfully, on time and without damage or incidents. Roll-Lift utilizes its own modern equipment fleet to ensure efficient operations. Our fleet consists of crawler and telescopic cranes, SPMT's, conventional trailers, jacking and skidding equipment and gantries.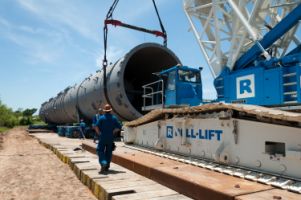 Roll Group
Fascinatio Boulevard 1242, 2909 VA Capelle aan den IJssel, The Netherlands
+31 10 270 14 50
naval@roll-group.com