Categories
Composites, Plastics & Rubber
Ballistic Protection
Composhield A/S originates from being an internal development division in the company Giantcode A/S, where the dedication to excellence in ballistic and blast protection was established. In 2001 Composhield A/S was formed as an independent company. Composhield A/S has today several patented technologies and continues to research, in co-operation with national and international universities, in the field of composite materials. Composhield maintains an ISO 9001:2008 Quality Assurance Certification.
Composhield develops and manufactures a complete range of advanced composite products for protection of people and valuables. Protective solutions can be tailored to specific protection levels, weight and price to meet all operational requirements according to specific customer requirements.
To achieve the best possible compromise between price, performance and mass Composhield draws on their extensive experience within application engineering, material science and ballistics to choose the optimal combination of materials. This includes ceramics, fibers (aramid, glass, carbon), resin systems, steel, aluminium as well as emerging materials in the market.
Composhield provides protection of people and equipment against blast, ballistic impact and other hostile actions. Protection can be offered against high and low calibre ballistic weapons as well as Improvised Explosive Devices (IEDs) and mine and blast threats.
Composhield's technology edge stems from a strong research department and a number of joint projects with top national technical universities.
Business Areas
MOBILE: Any application that can move itself by its own force. Typical examples are light and heavy vehicles, aircraft and ships. This is the company's main business area.
SEMI-MOBILE: Applications that can be moved but not by own force. Typical examples are building elements for camps, shelters, field hospitals etc. as well as vaults.
NON-MOBILE: Permanent structures such as military installations or bases, embassies, power plants and other critical structures.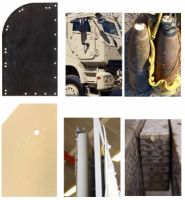 COMPOSHIELD A/S
Møgelgårdsvej 6, DK-8520, Lystrup, Denmark
+4596477500
+4596477575
info@composhield.com