Categories
Weapons & Ammunition
Training & Simulation
Ballistic Protection
Services (R&D, training, engineering, consultancy, …)
Other Aerospace, Defence and High Technology related companies
Since 2004 Dynamit Nobel Defence is an independent corporation which emerged from the Dynamit Nobel AG. From the beginning of the last century the location in Burbach-Würgendorf belonged to the Alfred Nobel Group, where also the classical dynamite - invented by Nobel - was manufactured. The defence activities of the enterprise were concentrated here at the beginning of the years 2000 and from this site they supply today products to ministries and governments worldwide.
Multipurpose Infantry Weapons - Dynamit Nobel Defence (DND) develops and manufactures various products for military applications. Products range from shoulder launched multipurpose weapons for the infantry and warhead developments to weapon stations plus add-on reactive armour for vehicles. DND is since decades a leading company in the development and production of multipurpose infantry weapons designed to be effective against heavy and light armour, bunkers or other structures. For shoulder launched weapons DND is a systems supplier to the Armed Forces offering the complete range of equipment including training aids and state of the art sighting systems.
Vehicle Protection - A weight-optimized and fragment-free protection technology against the effect of anti-tank handheld weapons and other threats has been developed by Dynamit Nobel Defence in recent years and is under series production today. The protection tiles consist of passive and reactive protection elements and can be adapted quickly to many vehicles. Besides defeating most common shaped charge attacks the reactive protection system offers additional full protection against armour-piercing projectiles and EFP IEDs.
Training Systems - Modern training equipment not only comprises training documentation with interactive and digital training materials. Drill and exercise weapons in sub-calibre and full-calibre sizes for training purposes are available at Dynamit Nobel Defence. In addition to that, DND offers highly mobile, structure independent simulation weapons which are easy to handle and can effectively be used for marksmanship and tactical training.
Fire Protection Systems - DND provides fire extinguishing and fire suppression systems that are effective against incendiaries of any kind (such as e.g. fire bottle), IEDs, external shelling and secondary fires (e.g. cable fires from short circuits and stored materials in the interior, e.g. munitions, medical kit and operating materials). They can be used in the following vehicles, among others: main battle tanks, protected transport vehicles, protected command and multi-purpose vehicles, special-purpose vehicles.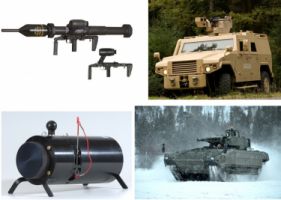 Dynamit Nobel Defence GmbH
Dr.-Hermann-Fleck-Allee 8, 57299, Burbach, Germany
+492736462014
+492736462107
info@dn-defence.com