Categories
Ships, Vessels, Submarines & related equipment
Composites, Plastics & Rubber
Libra, is established in 1992 and specializes in the design and manufacture of inflatable and Fiberglass Boats. The Company's boats are widely used for rescue operations, marine business, diving, petroleum marine operations, fishing, fun and leisure.
Libra ONLY uses the highest quality material available from France, EU and USA. Its technical staff are highly skilled and very well informed with many years of experience. In addition to ISO 9001:2000 Certification, the company has acquired the European CE Certification and SOLAS certification is also under process. It is a firm company policy to continuously develop its products to the highest quality standards.
The Company is committed to offer prompt after sales maintenance services to its customers and has spacious and equipped maintenance facilities for all types of repairs for both inflatable and fiberglass boats. Libra's clients are Marine Companies, Oil Companies, Military Forces, Coast Guards, Sailing Clubs and individuals etc.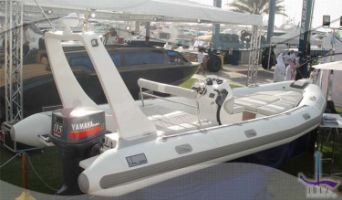 Emirates Inflatable Boats Libra Est.
P.O. Box 2120, Ras Al Khaimah, Ras Al Khaimah, United Arab Emirates
+97172282848
+97172272666
Sales@Libra.ae