Categories
Military, Tactical, Logistic Support Vehicles & related equipment
Weapons & Ammunition
Maintenance Repair Overhaul and Logistics Support
Guay Guay Trading Co. Ltd. (G&G ARMAMENT), was established in 1986, therefore has accumulated over two decades of experience in the design and manufacturing of airsoft guns, action figures, and military/law enforcement equipment, for airsoft gun and military enthusiasts all over the world.
G&G has rearranged its new line up starting year 2011. The two major subsidiaries under its flag are: GT and GC; The other one is Mustang Outdoor and Tactical Gear.
In addition to the design and manufacture of high quality airsoft guns, G&G also offers OEM and ODM services for airsoft and firearms manufacturers. G&G supplies wide variety of replacement components to its distributors and as well as dealers. G&G is committed to the best service support for its customers.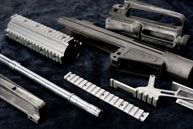 Guay Guay Trading Co. Ltd. (G&G ARMAMENT)
No. 999, Zhonghua Rd., Changhua County 50952, Shengang, Taiwan
+88647989000
+88647989900
sales@guay2.com