Last Update
August 20, 2019
Categories
C4I, Communication Systems
Electrical, Electronics & Electro-optics
IT, Computing and Software
Services (R&D, training, engineering, consultancy, …)
HITEC Luxembourg S.A., a 100%-owned Luxembourg company, has developed its business activities in the field of innovative and quality products and services. The company offers high technology, value-added solutions covering multiple business areas: satellite ground segment technology; customer-specific and standard equipment for testing and measuring of physical properties; engineering; consulting; software & ICT development and project management.
HITEC Luxembourg serves private and public sector customers at a national and international level in more than 30 countries worldwide.
Antenna Systems - HITEC Luxembourg is offering several full and limited motion antenna systems in different diameters (3m to 15m) and for multiple frequency bands (L to Ka-Band).
Antenna Components - To complement their offering of Limited Motion (LM) and Full Motion (FM) high end antenna systems, the company provides customers with high end antenna components such as an Antenna Front Panel (HAFP™), de-icing systems or Antenna Control Units (HACU®).
Satellite Terminals - HITEC Luxembourg's NoSaCo® series offers modular and flexible communication services out-of-the-box. Primary used with satellite communication, the terminals can also connect via 3G/4G cellular networks or Ethernet. All terminals are protected against environmental factors, like wind loads, temperature, dust and humidity and allow likewise reliable communication.
Mission Critical Information Systems - Communication and inter-working between different teams is essential during missions. Reliable and secure sharing of information to increase situational awareness is a main precondition for successful mission accomplishment. Commands, positions, visual and sensor data as well as generated or sampled information from the theatre of operation need to be transmitted. HITEC Luxembourg has developed advanced data treatment and transmission methods to improve sharing of data.
Rubber Industry Testing - HITEC Luxembourg' products in the field of rubber industry testing are used worldwide with all major producers of carbon black and rubber goods. The company develops and produces standard and customized testing equipment used in product development and in quality control.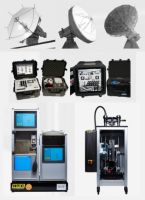 HITEC Luxembourg S.A.
5, rue de l' Eglise, L-1458, Luxembourg, Luxembourg
+352 498478-1
+352 401303