Categories
Military, Tactical, Logistic Support Vehicles & related equipment
Metal Processing, Parts & Components
Services (R&D, training, engineering, consultancy, …)
Raw Materials
Founded in 1970 as a company for foreign trade, KERAMETAL focuses on the purchase and sale of raw materials and semi-finished goods, mainly for the requirements of metallurgy and engineering, in a number of commodities.
The company was the dominant supplier of Czechoslovak metallurgical and engineering companies. Throughout its existence, the company has managed a wide network of trade and economic relations with both domestic and foreign entities. Today KERAMETAL is active in the defence sector and in facilitating new trade relationships.
Since 1994 the company is active in the defence segment. Their portfolio includes products that were engineered, devoloped and produced in Slovakia: Tatrapan Armoured Terrain Multipurpose Vehicle; Aligator 4x4 Master Light wheeled armoured vehicle and Zuzana 155 Mm Compact Artillery System.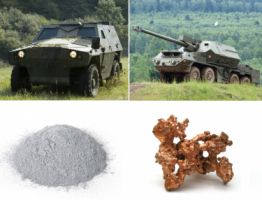 KERAMETAL, s.r.o.
Jasíkova 2, 821 03, Bratislava, Slovak Republic
+421248291111
kerametal@kerametal.sk