Last Update
October 6, 2016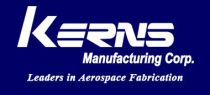 Categories
Aircraft, Helicopter, UAV, Spacecraft & related equipment
Metal Processing, Parts & Components
KERNS MANUFACTURING CORP., is a world class international manufacturer of products for the Aerospace Industry. Established in the early 1950's, Kerns is a leading tier 1 supplier of complex components and assemblies for Aero-Engine and Rocket Engine applications. KERNS manufactures products for clients throughout the world in its main facility in Queens, New York, USA, as well as its Joint Venture facility located in Chennai, India.
KERNS occupies a special process technology niche in the Aerospace industry. KERNS is quite unique with respect to the depth and breadth of its special process manufacturing capabilities. Additionally, KERNS products are typically among the most complex, difficult to manufacture and most valuable in Aircraft and Rocket Engines. They require the engineering, quality, manufacturing and management mastery of technically challenging special processes.
KERNS' special processes are performed on some of the most unforgiving and challenging materials used in manufacturing: super alloys. These materials are extremely hard with high temperature resistant properties. They are unusually tough materials requiring great skill with regard to their post special process machining.
The manufacturing precision required in the production of Kerns product is extremely demanding. Allowable dimensional deviation from nominal is typically measured in thousandths or tenths of thousandths of an inch. Typical temperatures for the vacuum braze and heat treat operations can be up to 2200 degrees Fahrenheit.
KERNS products include structural static as well as rotating components. The product mix is comprised of Engine Front Frames, Turbine Nozzles, Air Ducts, Inducer Nozzles, Pressure Balance Seals, Oil Tanks and Shroud Supports.
KERNS MANUFACTURING CORP. in New York is a joint venture partner in KERNS AEROPRODUCTS, PVT., LTD. (KAP), located in Chennai, India.
The underlying vision for this partnership is two-fold: Service customer's drive to lower overall cost through engagement in countries with low manufacturing costs. Offer customers a secure manufacturing solution to meet Indian aerospace offset requirements.
KERNS AEROPRODUCTS (KAP) is currently producing a number of air seals, inducer sub-assemblies, covers and an accelerator for Kerns and General Electric. The number and type of parts they will produce continues to grow in accordance with their technical acumen and equipment.
Kerns Manufacturing India Pvt. Ltd.
15 C V Raman Street, Alwarpet, Chennai, India
+91 442 232 3772
+91 442 232 6417
kernsindia@yahoo.com