Categories
Ships, Vessels, Submarines & related equipment
Services (R&D, training, engineering, consultancy, …)
Established in 1980, Marsun Company Limited is strategically located near Bangkok at Samutprakarn, at the mouth of the Chao Phraya River. For international customers, Suvarnabhumi International Airport is approximately 30 kilometers away from the yard.
Marsun has delivered over 260 various types of vessels. These include Fast Patrol Craft, Fast Attack Missile Craft, Crew and Supply Vessels, Ferries, Motor Yachts, Oil Spill Recovery Vessels, Multi-Purpose Craft etc. In addition to these, Marsun has also provided consultation on design, construction and repair to meet wide-ranging requirements for both domestic and international customers.
Since the beginning, Marsun has continuously earned a reputation as a quality shipbuilder with a 100 percent on-time delivery record. Since 2000, the company has aggressively served the needs of the international marine market. This has resulted in our winning a number of international tenders.
Marsun was achieved the ISO 9001:2008 certification for the provision of design, building and repairing of ship and boats by Lloyd's Register Quality Assurance (LRQA), the ISO14001:2004 standard for systematize the shipyard's environmental management system and the OHSAS 18001:2007 standard for occupational health and safety by SGS Thailand.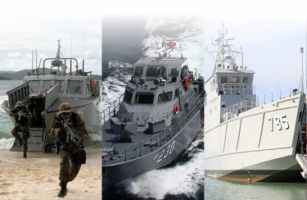 Marsun Company Limited
413 Moo 4, Soi Sitthichai, Taiban Road, Amphur Muang 10280, Samutprakarn, Thailand
+66021738943
+66021738949
contact@marsun.th.com