Categories
Training & Simulation
Electrical, Electronics & Electro-optics
Services (R&D, training, engineering, consultancy, …)
Military Equipment Denmark A/S (MED) was founded in 1987 by Leif Braae and today the company is Denmark's leading supplier of products and services to clients in the public and civilian defense and security markets. Over the years, MED has developed its own product range, mainly for shooting ranges.
MED provides a wide range of products – from military equipment such as armoured vehicles, environmental bullet catchers, shooting ranges and other types of target devices to general security devices such as personal protection equipment and other defense related products.
In the process MED has also developed its own products. Their solutions are characterized by careful use of resources and common sense. They specialize in environmentally sound shooting range equipment and secure construction of indoor and outdoor shooting ranges – for example featuring high quality target lifting system and bullet catchers containing recirculated rubber granulate, which offers optimum protection of the environment.
MED own products list include: Shooting range equipment; Environmental bullet catchers; Environmental ballistic constructions; Hydraulic target lifting system; Mobile targets; All types of targets; Anti-ricochet protection; Shooting range safety; Shooting range turnkey solutions; .Electronics.
MED also provides a range of additional services in the form of training, professional advisory services, qualified consultancy services, product development, and a highly versatile service concept complete with installation, maintenance, repair and modernization of shooting range equipment and establishment, among other to the Danish armed forces.
Over the past years, MED has been expanding in order to secure a wide and strong platform for its operations, first with the two subsidiaries, Braae Trading AB and M.E.D. Gitto ApS, which are primarily engaged in trade and service of defense products, then in 2011, MED expanded its portfolio with M.E.D. Maskinfabrik A/S and M.E.D. Skilteteknik ApS and in 2013, MED established United Military Services A/S, a joint venture between the parties FWW Fahrzeugwerk GmbH, Dommerby Stål A/S and Military Equipment Denmark A/S.
M.E.D. Maskinfabrik A/S obtained its ISO 9001 quality assurance certificate in 2011. So far the factory has mainly produced components for the civilian market but is increasingly acting as supplier to the defense, medico, and offshore industries as well. At the end of 2014, M.E.D. Maskinfabrik A/S has outsourced its production facilities to the newly established company named LH Maskinfabrik ApS.
M.E.D. Skilteteknik ApS produces a wide range of products for the defense industry, including in particular silhouettes for targets, danger demarcation etc. In addition to this the company also produces the full range of signs and advertisements for the civilian market.
United Military Services A/S (UMS) provides efficient and cost-effective maintenance, repair, and modification services of all types of military vehicles and equipment, old and new. Among others, the UMS services include technical support as well as training and education.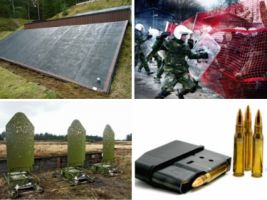 Military Equipment Denmark A/S
Virkelyst 1-3, DK-4420 , Regstrup, Denmark
+4559430300
+4559430310
ordre@med.dk