Last Update
August 23, 2018
Categories
Mechanical, Electro-mechanical, Hydraulic and Pneumatic components
Metal Processing, Parts & Components
Pearson Engineering is a world-leading provider of Counter-Mine, Counter-IED, Route Proving, Combat Earth Moving and Assault Bridge Launching equipment for Armoured Fighting Vehicles. Products are provided as interchangeable vehicle attachments designed to allow Commanders to optimise their resources to the needs of the mission.
This approach has also been applied to the civil defence sector. The company's range of Assured Security products provides Counter-IED protection, protective barriers, obstacle clearance and elevated access capability to our homeland security agencies. Pearson Engineering was founded in the 1980s and is part of Reece Group Ltd.
Assured Mobility – the Company's Assured Mobility products include Mine Ploughs, Combat Dozer Blades, Earth Anchor Blades, Excavator Arms, Bridge Launch Mechanisms, Mine Rollers, Surface Clearance Devices, Obstacle Marker Systems, IED Route Clearance Equipment and Vehicle Remote Control Systems. All products are designed to be fitted either directly to the host vehicle or via a common interface system which allows for their quick and easy attach and release. The common interface is suitable for all of the company's front end equipment and increases the capability of the host vehicle through the ability to quickly change its role depending on operational requirements. This approach allows a commander to choose the best tool for the job and the ability to deploy task-centric capability rather than platform-centric capability.
Assured Security - Pearson Engineering's Assured Security range of products includes Counter-IED protection, elevated access platforms, protective barriers and obstacle clearance systems.
Assured Manufacturing - with unique manufacturing capability and experienced project and commercial management, the company offers subcontract vehicle build, defence structure and defence component manufacture, inspection services, assembly, integration, test, repair and overhaul from their purpose built facility in the North East of England.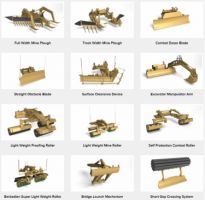 Pearson Engineering Limited
Armstrong Works, Scotswood Road, NE15 6UX, Newcastle Upon Tyne, United Kingdom
+441912340001
+441912620402