Last Update
October 20, 2016
Categories
Aircraft, Helicopter, UAV, Spacecraft & related equipment
Infrastructure, Construction & Civil Engineering
Mechanical, Electro-mechanical, Hydraulic and Pneumatic components
Metal Processing, Parts & Components
Other Aerospace, Defence and High Technology related companies
Services (R&D, training, engineering, consultancy, …)
Ships, Vessels, Submarines & related equipment
PT. SSE-VAN DER HORST INDONESIA (SSE-VDHI), was established in 1991, and is a joint member of the Van Der Horst Group Inc. and Singapore Technology Marine Ltd. Its engineering services plant is located in Tangerang with a total area of 9000 m2. SSE-VDHI Workshop is one of the best equipped of its kind in Indonesia. Their capacities include:
Material Handling: There are a total of 5 overhead cranes. Each of our two crane has at least one 5 ton crane and three crane has lifting capabilities of up to 10 tons and a forklift having lifting capabilities of up to 7 tons.
Shaft Turning: Shaft turning up to 7 m in length with a diameter of 800 mm.
Vertical Turning: Of the 5 vertical borers is the biggest borer with a 1.8 m turning diameter and a turning height of 1.7 m and with CNC capability.
Horizontal Boring Machines: A total of 3 horizontal boring HBM machine. The largest is a German made Union. It has a long travel of 3 m, a vertical travel of 1.5 m and a table capable of supporting 10 tons.
Industrial Chrome Plating: SSE-VDHI's plating facility is the largest in Indonesia. The largest plating tank can accommodate workpieces of up to 5.5. m in length and 1 m in diameter for internal or external plating. Under special circumstances jobs up to 7.5 m length have been plated.
Roll Grinding: A Waldrich roll grinder can accommodate rolls of up to 800 mm in diameter and 5 m length for grinding cylindrical and hollow rolls.
Crank Shaft Grinding: Total length 8.5 m, maximum throw radius 350 mm and a total weight of 7.5 tons can be accommodated.
Honing: Internal bores from 76 mm to 1000 mm can be honed up to a length of 3 m.
Welding: SSE-VDHI's welding capabilities cover the entire spectrum of welding of pressure containing vessels as well as overlay welding with stainless steel or E.G. INCONEL.
Stress Relieving Furnace: Items which require stress relieving can be treated in-house in our furnace. The internal dimensions of the furnace are 2.5 m by 2.5 m. Total load per charge can be 30 tons and the maximum temperature is 7000Celsius.
Pressure Testing: SSE-VDHI can pressure test up to 15000 PSI. Pressure test charts are provided for the record.
Supporting Services: The VDHI inspection department is fully trained in all kinds of inspection work including Magnaflux, Ultrasonic testing, Dye penetrant testing and all kinds of Metrology. In-house grit blasting facility ensures that no time is lost before inspection can commence.
Further, in the aerospace industry where the demand for quality and reliability of support services is of the highest level, SSE-Van Der Horst Indonesia has succesfully completed the repairs of aircraft components for major MROS. Dalic Stick technology is applied for resizing worn-out component for components of aerospace companies such as BAe, CFM, Dessault, EADS, Emirates, Goodrich, KLM, Bell, Sikorsky for their aircraft and helicopters.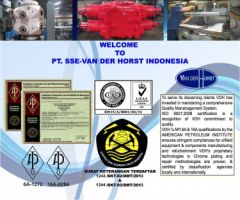 PT SSE-Van Der Horst Indonesia (SSE-VDHI)
Jl. Manis II No. 34, Manis Jaya, Jatiuwung, Banten, 15136, Tangerang, Indonesia
+6221 591 8727
+6221 591 8726
sales@sse-vanderhorst.co.id