Last Update
September 13, 2018
Categories
C4I, Communication Systems
Electrical, Electronics & Electro-optics
Radar, Sonar, Navigation, Targeting, Surveillance
Services (R&D, training, engineering, consultancy, …)
RTI Group is a major Russian industrial holding, which develops and manufactures high-tech products and infrastructure solutions using proprietary microelectronic technologies. RTI subsidiaries have their own R&D infrastructure and implement projects of unique complexity and scale in radio communications and space technology, security, microelectronics and system integration. RTI product portfolio includes ready-to-use solutions for national defense, integrated communication and security systems, IT infrastructure, automation and optimization of business processes, industrial microelectronics, smart cards and electronic devices for passports and visas, as well as large defense projects of national importance.
RTI is included in the Defense News Top-100 international ranking of the world's leading defense corporations. RTI is owned by Sistema JSFC (84.7%) and Bank of Moscow (15.3%). RTI consists of RTI Systems (97% owned), Mikron Group and NVision Group (each in 50% ownership plus 0.5 shares).
Defense Solutions
RTI is one of the TOP-10 companies in the Russian defense industry and a world leader in over-the-horizon radar systems. They are Russia's only producer of high-potential over-the-horizon and above-the-horizon radars and the main contractor for development and modernization of ground-based warning systems (missile detection, missile defense and space surveillance).
RTI is the developer of a new generation radars of missile warning system with different wavelength ranges, using ready-to-use technology, and integrated hardware and software systems and one of the largest Russian producers of communication systems and tools for tactical control of law enforcement authorities. RTI is a manufacturer of long-range cruise missiles and a reliable partner of the Russian government in state defence and state military programs.
Microelectronics & Equipment
«Mikron» group is part of industrial holding «RTI systems» and the largest manufacturer and exporter of microelectronics in Russia and CIS. The group is headed by JSC Mikron, a plant with half a century's history, the technological leader of Russian semiconductor industry. JSC Mikron performs scientific research, development, production and sale of integrated circuits, including for export. A line for the production of microchips with a topological level of 90 nm was launched in 2012. This project was implemented in collaboration with RUSNANO Corporation in partnership with the European industry leader STMicroelectronics.
«Mikron» group has a complete production cycle from IC design up to its assembling and personalization, which allows independent production of a whole range of high-tech products for the mass market: intellectual cards — smart cards, transport and other RFID-cars (using the radio frequency identification technology), sim-cards, bank cards with a chip, social cards and other identification documents, new articles for industrial electronics. Mikron has over 400 clients in Russia and 100 abroad. Among SITRONICS Microelectronics clients are the Moscow Underground, SPB GU «Transport Organizer», state transport enterprises of the Nizhniy Novgorod Region, Kazan, other Russian cities, integrators, banks, mobile operators, Russian electronic industry enterprises, electronic component distributors, and manufacturers of initial complete equipment (OEM) in South-Eastern Asia.
Threat monitoring & Control Solutions
The main business of the division is development, implementation and maintenance of complex integrated information systems management and security for public authorities. RTI JSC is positioned as a manufacturer and supplier of contingency management for operators strategically important facilities, law enforcement agencies and departments, as well as critical infrastructure markets B2G and B2B.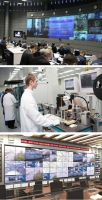 RTI
10, 8 Marta street, Bld. 1, 127083 , Moscow, Russia
+7 (495) 788-00-07
+74956142-62
inbox@oaorti.ru