Last Update
June 13, 2023
Categories
Mechanical, Electro-mechanical, Hydraulic and Pneumatic components
Sepson is one of the leading manufacturers of hydraulic vehicle-mounted winches in the world. Starting at the beginning of the last century, Sepson winches have spread around the world performing heavy duty pulling work with extreme reliability under all conditions, in tropical heat as well as in arctic cold.
The Sepson winch programme is divided into four product groups: Sepdurance, Sepmatic, Forcematic and Sepgain.
Sepdurance are planetary gear driven drum winches with pulling force of up to 450 kN. The winches have very high efficiency and are permanently lubricated, which contributes to long life and trouble free operation. The heat generated is very low, even during extensive use.
Sepmatic are Sepdurance winches with an integrated spooling device which ensures excellent spooling. This makes recovery work safer while minimizing the risk of damage to the winch cable.
Forcematic winches, again with the Sepdurance technology as a base, have the digital control system that ensures a constant pulling force regardless of the rope´s layer on the drum.The maximum allowed pulling force can be set from mission to mission but can never be higher than the maximum pulling force pre-set by Sepson. Forcematic winches is a major step towards improving safety and efficiency.
Sepgain are worm gear driven winches which handles loads of 40-100 kN. They provide essential and basic pulling force when the speed or versatility of a planet gear drive not is needed. As for every reliable, dependable and uncomplicated Sepson winch, the Sepgain winches also have a free spooling drum.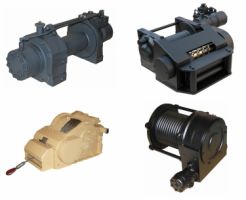 Sepson AB
SE-780 50, Vansbro, Sweden
+4628175840
+4628171009
info@sepson.se