Last Update
September 13, 2018
Categories
Metal Processing, Parts & Components
Serpa Investment Casting was established in 1992 in Kucukyali/Istanbul and was relocated in Istanbul Organize Leather Zone in 2000. The company operates on 4000 m2 open and 2400 m2 closed area.
With its modern machinery, equipment and highly skilled personnel and the capability to produce from 1 gr to over 25 kg investment casting parts, Serpa is a pioneer investment casting foundation in Turkey.
The company's clientele includes national and international customers. While their national customers are spread all over Turkey, their international markets are located in Germany, Netherlands, Switzerland, U.K., Scandinavian countries, U.S.A and the Middle East.
Vacuum investment casting is used for castings which have improved quality and performance. The vacuum cast nickel, cobalt and molybdenum alloys are used in these industries: turbine; aerospace; defense; electronic; medical and prosthesis industries.
Investment casting has the distinction of being not only the oldest metal process know to men, but also the most advanced technology in the sphere of metal forming techniques employed by manufacturing industry today.
SERPA as the pioneering investment casting company of Turkey offers the following advantages to the industry: Very smooth surfaces without any secondary operation; Elimination or reduction of secondary operations like brazing, welding; Closer tolerances than any casting process; The ability to produce complex and geometric parts which normally cannot be made by other casting processes enabling design flexibility for designers and engineers; Freedom of alloy selection, homogeneous microstructure, improved mechanic properties; Production of prototype or lots of parts faster uthan other casting methods.
Serpa's investment castings meet stringent quality requirements guided by quality systems registered to ISO 9001 standards. And certificated by AQA (American Quality Assessors) EN-DIN-ISO 9001:2008 approved by RAB and RVA).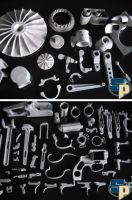 Serpa Investment Casting
Organize Deri Sanayi Bölgesi, M1-12 Parsel Aydınlı – Orhanlı Mevkii, 34957 Tuzla, Istanbul, Turkey
+902163942352
serpa@serpahassasdokum.com