Last Update
September 13, 2018
Categories
Mechanical, Electro-mechanical, Hydraulic and Pneumatic components
Military, Tactical, Logistic Support Vehicles & related equipment
SIMA Innovation is a young and innovative company. 
Founded in 2006 by Mikael Kildevæld, the initial developments of Lightweight Motorized Ringmounts were conducted and the following year the first samples delivered to the Danish Army in Afghanistan. Since then the company has made several solutions aimed at delivering solutions improving the personnel's operational capability and personal security under difficult and risky conditions.
Ringmounts
LMR M08 - SIMA Innovation developed LMR M08 for the Danish Army where it has been used on a broad variety of vehicles in Helmand, Afghanistan. Tested by the Danish Army Combat Center in Oksbøl it proved its efficiency. During perpetual operation in one of the most hostile environments it has proven its functionality and reliability. Easy to operate with a one-finger joystick it provides fast target acquisition and protects the operator from external, ballistic threats as well as securing an ergonomically working station serving as weapon platform for various support weapon including 7,62 mm, cal 0.5 and 40 mm rocket launchers.
LMR ALU - The Lightweight Motorized Ringmount ALU (LMR ALU) is designed to be a common ringmount solution to be mounted on a variety of vehicles directly or on adaptor/interface. Based on its predecessor LMR M08 we have taken the functionality, flexibility and robustness of LMR M08 in consideration.
Pindelmounts
Developed for the DURO ambulance the Pindlemount is a flexible light weapon station for small support weapons up to 7.62 mm Pindlemount is available with a flexible fire range from 360° and after customer's request.
Softmounts
SIMA Innovation offers a broad variety of softmounts for vehicle as well as naval platforms. The softmounts are applicable for 7.62 mm and 12.7 mm (cal 0.5) and they are operational in Helmand, Afghanistan and the Arabian Sea. Depending on use the company can deliver the softmounts in various materials:Steel; Aluminum; Titanium.
Remote Rotate Unit and Remote Rotate Tilt Unit
RRTU and RRU have a broad application as support for driving, surveillance, tool handling etc. They both provides an optimal security for the operator during submerged operations as it allows a flexible placement on vehicle, mast or tri-pod as platform for a wide range of cameras whether they are conventional, thermal or infra-red. The units are fully programmable with step less horizontal movement 360° and for the RRTU also a step less vertical movement +/- 45°.
Flipmounts & Specialities
Today's soldier needs various aiming devices for his weapon depending on the environment. Telescope, night vision etc occupy the railing on top of the carbine or soft mount and the need for a smooth and seamless exchange is necessary in order to adapt to the need. SIMA Innovation's Flip Mount gives the soldier the option to customize his sights without compromising operational capability.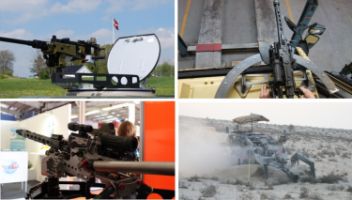 SIMA INNOVATION
Rhvervsvangen 3, DK-5792, Årslev, Denmark
+4565902503
+4565902533
fbh@simainnovation.com