Last Update
September 14, 2018
Categories
Mechanical, Electro-mechanical, Hydraulic and Pneumatic components
Military, Tactical, Logistic Support Vehicles & related equipment
Hiab is the world's leading provider of on-road load-handling equipment, intelligent services and digitally connected solutions. As the industry pioneer, Hiab's more than 3,000 employees worldwide focus on our commitment to increase efficiency in our customers' businesses and to shape the future of intelligent load handling.
Hiab's offering encompasses class-leading load-handling equipment, including HIAB loader cranes, LOGLIFT and JONSERED forestry and recycling cranes, MOFFETT truck-mounted forklifts, MULTILIFT demountables, and tail lifts under ZEPRO, DEL, and WALTCO brands. Hiab's ProCareTM service, award-winning HiVisionTM crane control system, and HiConnectTM platform demonstrate our constant drive to provide intelligent services and connected solutions that add value to our customers. www.hiab.com
Hiab is part of Cargotec Corporation. Cargotec's (Nasdaq Helsinki: CGCBV) sales in 2016 totalled approximately EUR 3.5 billion, and it employs over 11,000 people. www.cargotec.com
The Head Office of Hiab Benelux. is established in Meppel. Hiab Benelux has its own sales, service and installation centres in the Netherlands: Meppel, Rotterdam, Bedum, and Zaltbommel. For the service and installation Hiab Meppel commands more than 30 service locations spread over the whole of the Netherlands.
Hiab Benelux provides facilities for the local authorities, Ministry of defence, fire fighting brigade, rescue, salvage, moving of goods in the transport sector, waste handling, recycling, container handling and many other applications.
Hiab Benelux has the full responsibility for all products in the Dutch market, and is very successful, particularly in the field of military applications.
The production and selling activities meet the quality standards according to:
Quality Management System NEN-EN-ISO 9001: 2015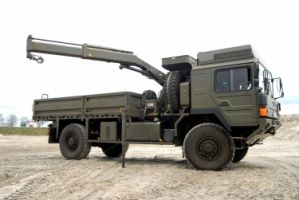 Hiab Benelux B.V.
Hesselingen 42, 7944 HR, Meppel, The Netherlands
+31 (0) 522-253831
info@hiab.nl