Last Update
April 26, 2017
Categories
C4I, Communication Systems
Electrical, Electronics & Electro-optics
Services (R&D, training, engineering, consultancy, …)
STE, Servicos de Telecomunicacoes e Electronica, SA, is a private company providing installation, maintenance, engineering and integration services in the Telecommunication, Electronics, Communications Systems and Industrial Electricity markets.
In Defence market, STE has a prominent position, acting alone in providing specialized services for installation, maintenance and commissioning and in conjunction with technology partners in providing complete solutions.
The company has the appropriate licenses for its activity and volume of contracts - Class 5, being accredited by the National Security Authority as Secrete level and by MoD as supplier of military technology.
STE, Servicos de Telecomunicacoes e Electronica SA operates throughout all the national territory, and has an important presence in Portuguese language countries, particularly in Angola where it has a branch in full operation. Their activity is resident in nuclear areas of operation that integrates the following competencies:
Telecommunications, Transmission and Electronics (Radio Systems PDH and SDH networks; SDH and x'WDM; Point-to-Point, Point-to-Multipoint, WiFi and WiMax Radio access; Network Cabling Voice, Data and Image).
Telecommunications Infrastructure (Containerized shelters Telecommunications; Support Antenna Towers; Civil Works infrastructures for support to Telecommunications; Integrated stations).
Access Networks (Networks Cable TV, CATV, MATV, etc.; Customer Premises Installations; Internet Broadband, xDSL's NetCabo, FTTH).
Power Systems, Control and Climate (LV and MV Electrical Installation; AC and DC Power Systems, Diesel Generator sets and UPS systems; Automation and industrial control systems; Video Surveillance, Security and Automation; Toll systems, signaling and communications road safety).
Special Systems (Protection and Electromagnetic Systems EMI and Tempest; Anechoic chambers and GTEM; Defence Systems).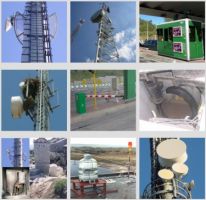 STE SA
Rua de São Tomé, N.º 13A, 2689-509, Prior Velho, Portugal
+35 121 940 4600
+35 121 940 4699
geral@stesa.pt