Last Update
September 13, 2018
Categories
Aircraft, Helicopter, UAV, Spacecraft & related equipment
Sukhoi is Russia's major aircraft holding company, employing more than 26,000 people. 100% of stock of the Sukhoi Aviation Holding Company (JSC) belongs to the United Aircraft Corporation (JSC). The Company supports a complete cycle of work in aircraft engineering: from frontend engineering to comprehensive aftersales support. The holding's products, such as Su- marque combat aircraft, are state-of-the-art weapons systems in the global market, which form the backbone of the frontline aviation of Russia and tactical air forces of many other countries. The Company is Russia's major manufacturer of export aircraft, placed 3rd in the world in terms of the numbers of modern fighters produced. The Company is currently implementing programmes in the field of military and civil aircraft engineering.
Military Aircraft: Su-22М3; Su-22М4; Su-24МК; Su-25К; Su-27SК; Su-27UBK; Su-30МК; Su-32; Su-33; Su-35.
Civil Aviation: Sukhoi Superjet 100; Be-103; Su-80; Su-26, 29, 31.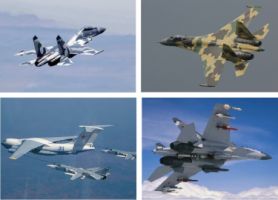 Sukhoi Company
23B, Polikarpov str., 125284, Moscow, Russia
+7 (499) 550-01-06
+74959456806
info@sukhoi.org