Categories
Military, Tactical, Logistic Support Vehicles & related equipment
Weapons & Ammunition
C4I, Communication Systems
Training & Simulation
Electrical, Electronics & Electro-optics
Obzerv Technologies Inc., is a specialized firm which designs, develops and manufactures high-end night-vision cameras for mid-range and long-range surveillance applications based on active imaging. Thanks to its range-gating capability and unique laser illuminator technology, Obzerv's cameras are operating in total darkness and degraded weather conditions while offering real time video images.
Over the years, Obzerv's cameras have been installed and integrated with diverse surveillance systems around the world. To achieve this success, it has worked closely with its customers to ensure that the best and most efficient integrated solution is delivered.
Military Applications
Identification (friends, enemies, neutral parties).
Border surveillance and protection from terrorists.
Protection of high value assets.
Sniper detection.
Drone (remote control) airborne platforms.
Night-time Battles
No modern military force can win its battles without night vision systems. Since most battles now take place at night, the side that deploys the longer-range night vision system will win every engagement. What's more, high-performance long-range night vision systems can increase troop survivability, reduce friendly fire deaths, and ease up on civilian collateral casualties.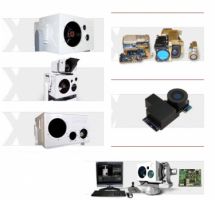 Technologies Obzerv Inc.
400 Jean-Lesage, Bureau 201, Qc, G1K 8W1, Quebec, Canada
+14185243522
+14185246745
info@obzerv.com