Last Update
August 22, 2018
Categories
In cooperation with Slovak and Czech companies Technopol International, OS–3 is involved in diverse projects including design, development, production, supply, procurement, support and trade of various military systems. Their prime goal is the reliable supply of weapons, weapon systems, ammunition and spare parts. Major international business partners of the Group include NATO, North African and Middle Eastern countries.
PRODUCTS
VMS 07 - 9 mm sub-machine gun - The VMS 07 model machine gun is a modern lightweight automatic hand-held gun. It offers comfort and accuracy with its concept of firing with a partly locked breech bolt in the front position. The machine gun can be easily operated by both the left-handed and right-handed, as well as case ejection to the right or left can be selected due to its design. The VMS 07 can be easily dismantled into main assemblies for the purpose of maintenance and cleaning without using any tools.
RAG 30 - 30 mm hand automatic grenade launcher - The RAG-30 hand automatic grenade launcher designed for 30mm grenades is an effective individual weapon which can directly be included into the arrangements of smallest combat unit. Dimensions, lightweight and unique construction of weapon with essential reduction of the back-rush effect during fire allow in spite of high muzzle velocity and maximum range of the weapon fire in standing, kneeling and prone positions.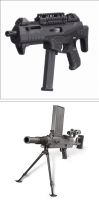 Technopol International, OS–3
Kutlikova 17, SK-852 50, Bratislava, Slovak Republic
+421 (0)2 682 86 140, +421 (0)2 682 86 111
technopol@technopol.sk