Last Update
September 13, 2018
Categories
Mechanical, Electro-mechanical, Hydraulic and Pneumatic components
Metal Processing, Parts & Components
Military, Tactical, Logistic Support Vehicles & related equipment
Services (R&D, training, engineering, consultancy, …)
"Uralvagonzavod" heads the integrated structure incorporating more than 20 industrial enterprises, research institutes and design offices in five federal districts of Russia. For many years it has been the leading domestic designer and manufacturer of freight railway cars with powerful technological and intellectual potential.
Today "Uralvagonzavod" is one of the Russian largest research-and-production complexes includes metallurgical, car-building, mechanical assembly, mechanical-repair, tool and other types of production providing closed production cycle. 4 design offices, including parent design office of freight railway car building, plus 2 institutes enable the Corporation to master advanced technologies, successfully develop and introduce new models of transport and special equipment into production.
In the on-going full-scale renewal of the enterprises the Corporation cooperates with leading domestic and world-known companies. Every year about 1.5 to 2 bln rubles of own and outside capitals are invested for this purpose. Thanks to agile development "Uralvagonzavod" has achieved stability facilitating the Corporation to follow faithfully the developed course.
The largest domestic transport companies, the Russian Federation Ministry of Defense and Federal State Unitary Enterprise "Rosoboronexport" as well are the general partners of "Uralvagonzavod".
PRODUCTS
Special products: T-90S Modernized Main battle tank; T-90S Third-Generation Main battle tank; T-72 Modernized Main battle tank; TERMINATOR Fire Support Combat Vehicle BMPT; TERMINATOR 2 Fire Support Combat Vehicle BMPT-72; IMR-3MA Obstacle remover; BMR-3M Armoured deminer; BREM-1M Armored recovery vehicle; TBS-86 Tank dozer; ATOM Armored Modular Vehicle BMP.
Railway Vehicles: 15-144-01 Tank car; 15-150-05 Tank car; 15-156 Tank car; 15-157 Tank car; 15-157-01 Tank car; 15-157-02 Tank car; 15-195 Tank car; 15-5103-07 Tank car; 12-132 Gondola car; 12-132-03 Gondola car; 12-196-01 Gondola car; 12-146 Gondola car with detachable cover; 13-192 Flat car; 23-592-01 Flat car; 23-599 Flat car; 13-198 Flat car; 18-522 Three-axle bogie; 18-578 Two-axle bogie; 18-194-1 Two-axle bogie.
Other products include Containers, Road-Building Machinery and Tractors.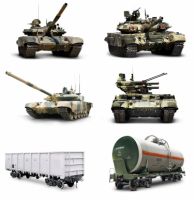 Uralvagonzavod
st. Bolshaya Yakimanka, 40, 119049, Moscow, Russia
+74957370080