Last Update
September 14, 2018
Categories
IT, Computing and Software
Training & Simulation
Virtual Reality Media a.s. (VRM) is a private company engaged in design, development and production of state of the art simulators and training systems. The company's activities include:
Military simulators - Fixed wing aircraft (Mig-29, Mig-21, SU-22, SU-25, L-39); Rotary wing aircraft (Mi-17, Mi-171); Ground vehicles (T-72, BMP-2).
Civil aircraft simulators - Business jets (Cessna Citation line FNPT, FNPT II MCC, FTD and FFS Level C,D).
Other services - 3D modelling; modelling of terrain databases (Geo-typical, Geo-specific); Glass cockpit conversion and NVG compatibility.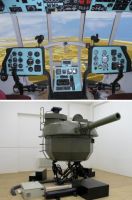 Virtual Reality Media a.s.
Rybarska 1, 911 01, Trencin, Slovak Republic
+421326518100
+421326518222