Categories
Military, Tactical, Logistic Support Vehicles & related equipment
Electrical, Electronics & Electro-optics
Mechanical, Electro-mechanical, Hydraulic and Pneumatic components
Metal Processing, Parts & Components
VYVOJ Martin, a.s. is a modern company with a rich history. Their tradition in research and development has been enhanced through experience in the field of engineering and in particular defence technologies. VYVOJ Martin also focuses on a wide range of activities in civil industrial segment. Their multi-product platform includes prototypes, single parts and small batch production. The company's portfolio includes, amongst others, the development of a variety of machines and equipment.
The defence technology activities include: TATRAPAN 6x6 terrain vehicle; TATRAPAN 8x8 Container Carrier; Turret VMT-VK30.1; Shelters; RWM Infantry and Pyrotechnic Products; Weapons for Armed Forces & Law Enforcement; APG 20 (Automatic power generator 20 kVA); Detector - FALCON CWA.
The civil technology activities include: Oil separator; Mobile Container Power Station; Winter Service Vehicles; Testing Equipment; Positioners; Gear Drives; Welded Structures and Weldments; Fixtures.
VYVOJ Martin is OHSAS 18001:2007; ISO 14001:2004; ISO 9001:2008 and AQAP 2110 certified.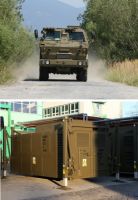 VYVOJ Martin a.s.
Komenského 19, 036 01, Martin, Slovak Republic
+421434132005
+421434133024
chreno@vyvoj.sk