Categories
Maintenance Repair Overhaul and Logistics Support
Metal Processing, Parts & Components
Military, Tactical, Logistic Support Vehicles & related equipment
Zaklady Mechaniczne "BUMAR – LABEDY" S.A. is a manufacturer of heavy track-laying vehicles for military and civil purposes. The Company is a member of the Polska Grupa Zbrojeniowa.
For more than 60 years the company has been manufacturing heavy military vehicles, including tanks, armoured repair and recovery vehicles and accompanying bridges. New generations of armoured equipment supplied to the Polish Army and many customers abroad established their position in the world market of military equipment and armament.
The company also manufacture heavy equipment for civil purposes – mainly for coal mining industry – and they offer production services in the area of welded structures, castings and thermal treatment. They provide service and maintenance of construction machines, jig cranes, excavators and loaders that they have manufactured.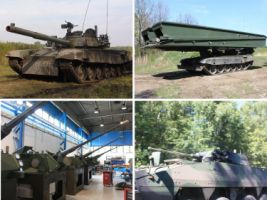 Zaklady Mechaniczne "Bumar- Labedy" S.A.
9 Mechanikow St., 44-109, Gliwice, Poland
+48 327 345111
+48 327 346511
bumar@bumar.gliwice.pl