Last Update
August 11, 2022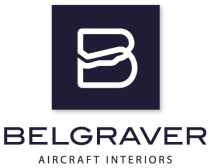 Categories
Aircraft, Helicopter, UAV, Spacecraft & related equipment
Other Aerospace, Defence and High Technology related companies
In 1956 Belgraver Aircraft Interiors took its maiden step in aviation after being requested by the Dutch national carrier to manufacture a few spare curtains for their Super Constellations. Nowadays, Belgraver Aircraft Interiors runs modern facilities in Naarden – The Netherlands, Dubai – United Arab Emirates and Jakarta – Indonesia around the clock.
The company's team with more than 100 specialists is at customers' disposal to keep their aircraft interiors up to standard. Belgraver Aircraft Interiors' product range covers non-structural parts manufactured from plastic, foam and textile for aircraft interiors which are supplied to more than 120 airlines and MRO's. As a result, Belgraver Aircraft Interiors prides itself with an installed base of over 2,500 'flying showrooms' worldwide.
The company's products meet the latest airworthiness requirements. They are designed, manufactured or repaired for any renowned aircraft seat and aircraft type and are released with an EASA Form 1. Belgraver Aircraft Interiors guarantees OEM- or improved quality, offering savings up to 70% compared to OEM pricing combined with impressive short lead times for any requirement in their product range.
Peter Belgraver – President and third Belgraver generation in this family-owned company.
Belgraver B.V.
Energiestraat 31, 1411 AS, Naarden, The Netherlands
+31 (0)35 69 45 514
+31 (0)35 69 42 113
sales@belgraver.nl