Last Update
August 18, 2022
Categories
Electrical, Electronics & Electro-optics
Other Aerospace, Defence and High Technology related companies
Ships, Vessels, Submarines & related equipment
Naval applications are subject to some of the most challenging requirements found at sea as well as on land. As the archetypal mobile but heavy force, the navy is often called upon to channel disaster relief or secure distant areas. This may require it to sail anywhere in the world at short notice, including regions with extreme climates far from supply lines. When this happens, it is important to know that you can rely on your heating, ventilation and air-conditioning units no matter what.
Heinen & Hopman has long-established and wide ranging practical experience in the maritime field. We also provide global coverage and 24-7 service availability thanks to major service points and spare part depots around the world.
Their policy of total system responsibility means that we carry out the full cycle of customized design, production, installation and maintenance. In addition, Heinen & Hopman organizes procurement, shipping, logistic support, assembly, testing and trials both onshore and off. All components used in Heinen & Hopman units are subject to shock and vibration criteria and can be mounted on absorbers.
All systems and devices mounted onboard are electromagnetically compatible. Electromagnetic Interference (EMI) is minimized or shielded at the source through the fitting of motors free of radio interference, earthed foundations and aggregates, shielded boxes and panels, EMI-controlled custom-built components such as switches and relays, and shielded cables. After completion and commissioning, installations will be tested both during sea trials and in the harbor.
In addition to countless merchant vessels, offshore installations, yachts and buildings, Heinen & Hopman has equipped a number of navy ships, including Corvettes for the Indonesian Navy, Corvettes for the Moroccan Navy, a training vessel for the Algerian Navy and a hydrographic research vessel for the Royal Netherlands and the recent delivered comprises the Joint Support Ship HNLMS Karel Doorman. At present the order portfolio (2017) includes Corvettes for a Far East Nation, a series of Patrol Vessels for a Middle East Nation, Mine hunters for a North African Nation and Patrol Vessels for the Caribbean, Europe and Africa.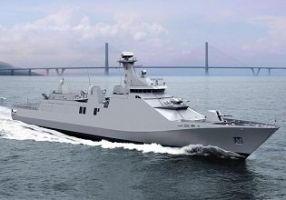 Heinen & Hopman Engineering
Produktieweg 12, 3751 LN, Bunschoten, The Netherlands
+31 (0) 33-2992500
(+31) 033-2992599