Last Update
January 11, 2019
Categories
Aircraft, Helicopter, UAV, Spacecraft & related equipment
Engines, Propulsion, Power Generation
Aerospace Propulsion Products B.V. (APP) is a leading Dutch company in the field of space propulsion ignition. Our igniters ensure a reliable start of European launchers as Ariane 5 and VEGA. Furthermore, APP applies gas generator technology to non-space applications, such as dust explosion suppression systems and cool gas generators. APP is a 70% subsidiary of ArianeGroup and 30% subsidiary of First Dutch Innovations.
APP was founded in 1989 by TNO, initially for the production of propellant grains for the Ariane 5 Vulcain Starters and Igniters. In 1995 Stork Product Engineering BV (SPE) joined TNO as a shareholder of APP and the company activities expanded to the production of the complete Vulcain igniters and starters. Since then the scope of activities has increased with the development and production of many new igniters and gas generators. In 2005 the engineering department of SPE specialised in igniter development was transferred to APP together with its heritage and project portfolio. This lead to the current company organisation and the harmonisation of engineering, testing and manufacturing skills at a single location in Klundert at the Moerdijk Industrial Park. In 2009 TNO acquired all the APP shares of SPE. In 2014 ArianeGroup (at that time Safran group) acquired 70% of the shares and became the main shareholder of APP.
Currently APP employs 52 persons most of which are highly experienced and have specific knowledge in the field of ignition systems, pyrotechnic devices and other forms of gas generators. The average employee at APP is 39 years of age and has 15 years of work experience, of which 10 years of work experience at APP. The 2017 total turnover of APP was about 11.2 million Euros.
The core activity of APP is the development and production of ignition systems for launchers. APP works with ESA and all European space propulsion companies on rocket engines of today and tomorrow. It is the strategy of APP to maintain its position as leading European company in this field. The company strongly believes that the synergy between the various igniter activities creates value for the launcher industry (e.g. cost effectiveness, specialised knowledge centre). The company ambition has been documented in a roadmap for future activities, which is well supported by the Netherlands Space Agency.
Quality
APP's quality policy is focussed on process control, in the first place in order to reach maximum effectiveness and efficiency of existing processes, secondly to also control the introduction of new processes, necessary for the intended growth and product diversification.
APP's quality management system complies with the rules of the ISO 9001 standard since 1999. Additional provisions can easily be taken into account when required by the customer. Especially with aerospace requirements many years of experience is acquired. This resulted in certification according EN 9100 by the ASD-EASE association of major European Aerospace companies. These additional provisions are usually described in a programme-specific product assurance and safety plan.
Products
Producing igniters, ignition systems and gas generators for the space industry is the very reason for the start of APP as an independent entity. APP seeks to continue its development as a specialised company for developing and producing highly reliable and cost efficient ignition systems to suit customer requirements. This includes powerful igniters for solid rocket motors as well as sophisticated ignition systems for liquid rocket engines and gas generators for a variety of applications.
APP has strong relationships with all major European space propulsion companies involved in the development and production of rocket engines, both solid and liquid based. To keep at the forefront of technology development and in order to improve products and processes APP is continuously involved in various technology programmes. Examples of these programmes are the FLPP program, FP7 program, GSTP and TRP program as well as national funded programmes. The result of these programmes further expands APP's extensive knowledge of ignition systems, gas generators and rocket engine technology including alternative systems and (green) propellants. On the basis of this APP is capable of answering to customer needs in offering technical advice and optimal design solutions for each application.
Launcher/Space Activities
VEGA
Igniters for first, second and third SRM stage
In production since 2010, > 30 items produced
Pyrogen technology based on Ammonium Perchlorate / HTPB
Lightweight, low parts count
Consumable carbon composite igniter case
Application of parts made by additive manufacturing
5 subsequent successful launches
ARIANE 5
Vulcain Igniters and Starters
In production since 1995, > 3000 items produced
Pyrogen technology based on Ammonium Nitrate
Two Igniters for thrust chamber and gas generator
One Turbine Pump Starter
73 successful launches
Vinci Ignition System
In development for Ariane 5 ME/Ariane 6
> 400 ignitions already performed
Spark torch technology using redundant spark plugs initiation
System includes torch, ignition electronics and feed system
VEGA C
Development of SRM Igniter for Z40
ESA Future Launchers Programme (FLPP)
Catalytic Igniter for staged combustion engine

Hydrogen peroxide combined with fuel
Successful demonstration tests

Direct spark igniter

Spark plug directly in thrust chamber
Feasibility tests in preparation
Commercial Activities
Gas generators for non-space applications
The technology of solid propellant gas generators, producing a large amount of gas in a very short time, has inspired APP to apply this technology for several non-space applications.
Since many years, APP produces Fast Gas Generators (FGG) for the Flash® dust explosion suppression systems of the company StuvEx. The commercial success of these FGG's is based on the combination of applying the advanced technologies and methods of our space products with an efficient industrial approach for production and quality assurance.
In cooperation with CGG Safety & Systems, APP is developing several cool gas generator products for non-space applications. The cool gas generator technology gives a unique possibility to produce large amounts of gas at room temperature. The gas generator is only pressurized during operation, as the gas is stored in a solid state. Important advantages of this technology are the low maintenance requirements (no maintenance from 7 to 15 years) and the temperature of the gas (room temperature).
Dust explosion suppression
StuvEx Flash™ Dust Explosion Suppression System
Fast gas generators to expel an extinguishing powder bottle
Robust, high reliability, no maintenance, long lifetime
In production since 2000
Production rate > 500 / year
Cool gas generator
Nitrogen at ambient temperature
Solid chemical technology, patented by TNO
Applications under development with partners in the field of fire extinguishers and inflatables.
EXXFIRE fire extinguisher in production since 2017.

ExxFire computer server rack fire extinguishing system
Nitrogen total flooding extinguishing
Aerosol Generator
AF-X Aerosol Fire extinguishers
Stop the combustion reaction, without effecting the oxygen content
Based on Solid Bound Compound (SBC). This is a pressed tablet with a mixture of:
Potassium Nitrate, DCDA, Resin, Magnesium Hydroxide
Very efficient and effective way of fire extinguishing
5 different products in development by APP based on AF-X patent
Cleaner, more efficient and cooler than existing aerosol products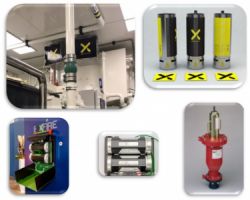 Aerospace Propulsion Products B.V.
Westelijke Randweg 25 (M412), 4791 RT, Klundert, The Netherlands
+31 (0) 168 388188
+31 (0) 168 381 858
app@appbv.nl