Last Update
June 19, 2020
Categories
Aircraft, Helicopter, UAV, Spacecraft & related equipment
High Eye B.V. develops and builds a state-of-the-art UAV that is able to fly long range missions.
History
High Eye was founded about 30 years ago as a model helicopter company. The company designed and built model helicopters, which were used for filming movies and commercials. Some of these helicopters were sold to third parties over the years.
In July 2013, Joost de Ruiter joined the company as CEO and majority shareholder. Joost has been an entrepreneur in several other companies. His enthusiasm for advanced technical product development in a growing global market explains his goal to create a successful and distinctive unmanned aviation company.
In December 2013 High Eye decided to cease the helicopter services and to focus entirely on the designing, building and selling the product. New personnel with very diverse backgrounds were hired, which gives the company a wide range of knowledge from aviation to (aerospace) engineering.
The HEF 30, the first RPAS, went through a major upgrade, which made it possible to pass the Dutch and several other countries' certification processes. In 2017, with increased endurance (4+ hours), increased MTOW and with officially getting the helicopter EMI shielded and IP-67 water- and dust resistant the HEF 32 was born.

INTERVIEWS
Interview with Mr. Mr. Joost de Ruiter, CEO and Owner, High Eye (Mar 29, 2019) Source: Epicos (link)
HEF 32 Unmanned Helicopter System
The HEF 32 is a long range unmanned helicopter with a two-blade single rotor. Because of its size, weight and capabilities, it creates a class on its own and brings industrial reliability into the UAV market in an unprecedented small size.
MAIN FEATURES
> 4 Hours Endurance
50 KM Line Of Sight Range
IP-67 Water/Dust Resistant
5 KG Payload
21.5 KG Max. Take-Off Weight
EMI-Shielded
ITAR Free
Fully Automatic Operation
Encrypted MIMO Datalink
Flexible Payload Capability
EASA Compliant OM/MM/IPB
BASIC SYSTEM PACKAGE
The HEF 32 is provided in a basic system package. It includes everything you will need to operate the system out of the box:
HEF 32 helicopter
Ground control station
Vest carrier
Multiple antenna configurations
Transport case
OM/MM/IPB manuals
Overhaul/replaceable parts
Maintenance frame
Toolset and cables
OPTIONS
There are many options available to expand the capabilities of the HEF 32, which add to the multifunctionality of the entire system.
Whether you are flying in remote areas, the arctic,at night time, above open waters or beyond visual line of sight, the following standard options are available:
Tracking antenna
Stand-alone tracking antenna
ADS-B transponder
Navigation & collision lights
Emergency flotation kit
Snow skids
Fuel level sensor
Ballistic recovery parachute
The HEF 32's radio communication system is used for telemetry, control and payload simultanously, providing high bandwidth capabilities even at large distances from the operator. The system is available in multiple frequency bands from 0.9 to 6.0 GHz.
Customer specific liveries and logos for the helicopter can be designed and painted upon request.
SMART DESIGN
The HEF 32 is equipped with a fuel-driven engine, which gives it a much longer endurance than comparable electric unmanned systems.
After a maximum flight time of 4.5 hours the operator only has to refuel to continue the mission.
Flight range is limited by the communication signal. Live HD video, infrared and other data can be received up to 50 kilometres from the ground control station.
The autopilot is always in control and makes the system completely automatic. Take-off, landing and navigation is initiated and performed by the simple press of a button.
Military components and technology make the HEF 32 truly water and dust proof. Protection against salt-water corrosion allows operations in maritime environments and makes it an all-weather machine.
Rotor blades are specially protected against abrasion by dust and sand. All electronics are shielded from electro-magnetical interference.
Because of its rugged design and compact size, the HEF 32 can be transported in the back of an estate car with ease.
INTEGRATION MADE EASY
The HEF 32 has been designed to be a flexible, multi-sensor platform. This allows customers to adapt the system to their mission requirements without complicated and expensive custom development projects.
There are many ways to expand the capabilities of the HEF 32 system. Operating multiple sensors, increasing operational range, improving flexibility and even integrating into Air Traffic Control environments, the HEF 32 can do it all. The payload bay of the HEF 32 is located underneath the nose, offering an unrivalled amount of clear space without obstructions, to mount large or odd-sized payloads. The built-in converters and IP based data-link system allow the live transmission of many different types of payload data.
High Eye can assist in selecting a suitable payload for a specific mission requirement. Customers can either select an already integrated option or request the integration of a new payload type. The basic options vary from optical and infrared gimbals to industrial LIDAR systems and emergency locator tracking antennas.
The efficiency of a mission execution will no longer be limited by the capabilities of the unmanned platform. The HEF 32 crosses boundaries and creates new mission profiles all by itself.
WORLDWIDE APPLICATIONS
Wildlife inventories and protection
Traffic accidents monitoring
Powerline/pipeline inspection
Environmental disasters
Traffic monitoring
Fire monitoring
Ship tracking
Fishery
Agriculture
Area mapping
Forest inventories
RF spectrum monitoring
Environmental research
Harbour and border patrol
Search and rescue operations
Volume measurement of landfills and stockpiles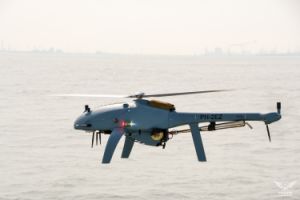 Product informational files
Maritime
Tailored for these missions:
Anti smuggling operations: Day time or at night
Coastal patrol & guard: Trafficking of people in day time or at night
Port security: Observe large ports
Long Range reconnaissance from vessel: Finding pirates, locating fish and detection of obstacles (ice floes) or illegal pollution (oil spills)

Safety & Security
Tailored for these missions:
Anti kidnap: Day time or at night
Port security: Observe large ports
Anti poaching: Day time or at night
Border patrol: Trafficking people or smuggling drugs
Protect assets: Check railtracks or pipelines for damage or theft
Long Range reconnaissance: Looking for pirates or drowning people
Search & Rescue: Check situation of people in disastrous events like floods, landslides, eruptions, fires or earthquakes in hover or slow flight
Check fencing: Of game reserves or company terrains for damages or intruders
Research
Tailored for these missions:
Wildlife monitoring: Nature research on e.g. whales, polar bears, goose tracking or fisheries protection
Environmental surveys: Monitoring of sea ice or forest coverage and detection and monitoring of illegal pollution like oil spills
Aalborg University Denmark
Flying BVLOS with multiple payloads
Aalborg University Drone Research Lab focuses on drone research on all kinds of aspects like autonomy, communication, safety and risk, industrial use and mapping.
"After extensive research on the Long Range UAV market we chose the HEF 32 UAV because of the high professional level of technicians, knowledge and elaborate documentation. High Eye also has a manned aviation background and is very open in its approach and communication", Anders says, Professor & Manager of Drone Research Lab of Aalborg University.
To be able to test and develop projects Aalborg has labs for motion tracking and autonomous vehicles, a machine and electronic workshop and a testing airfield nearby.
The Aalborg Drone reseach lab is doing research and runs project with BVLOS Remotely Piloted Aircraft Systems (RPAS). The HEF 32 UAV has the advantage to be very flexible in changing to different payloads.
Arctic UAV Canada
Hover for hours in the frozen Arctic World
Arctic UAV chose the HEF 32 RPAS to be able to perform nature research such as whales, seals and caribou tracking in the North of Canada.
"Operating Long Range UAV's in the Arctic is challenging. We looked for a long period to find a robust unmanned VTOL UAV solution. We are convinced that the HEF 32 RPAS is best available option in the market" says Kirt Ejesiak, Chairman & CEO of Arctic UAV.
Besides wildlife and environmental surveys & monitoring Arctic UAV is planning to use the HEF 32 for surveillance of marine traffic, detecting oil spills, ice reconnaissance from vessels or land based and sea ice monitoring in the arctic.
Oculus Airborne Sensoring Mexico
Great tool in the Fight against Organized Crime
Oculus Airborne Sensoring uses the HEF 32 UAV for applications which improves the safety of people of several states in Mexico. The VTOL RPAS is a perfect system to fight crime, mainly for anti-kidnapping situations, drugs trafficking and to identify persons carrying weapons. To provide a servicing solution for clients, Oculus also set up local after-sales offices throughout the region.
"With infrared (IR) sensors our clients are even able to fly their missions during night time. Another advantage is that the UAV can be operated in very different weather conditions, so it can be used almost any time. We are fully convinced that other clients will use the HEF 32 UAV for border patrols to prevent trafficking of people and smuggling of drugs, which is a great problem in Mexico.
We see other possibilities in the commercial and maritime sectors as well, such as inspection of pipelines and to locate tuna fish on board of large fishing vessels" Sebastian Zepeda García, CEO of Oculus Airborne Sensoring says.
Texo Drone Survey and Inspection United Kingdom
Detailed inspection of ocean-based assets from shore-based locations
"With the HEF 32 Unmanned Helicopter System (UHS), Texo Drone Survey and Inspection (Texo DSI) is the first in the UK able to do operations from shore-based locations to deliver detailed inspection of ocean-based assets without the associated risk and logistics of marine transport and transfer of personnel", says John Wood, Chief Operations Officer Texo DSI.
"The HEF 32 RPAS is a perfect fit because of its Long Range VTOL capabilities flying for over 4 hours, a take-off weight below 25kg, a water recovery system and an IP-67 rating to allow operations in inclement weather. For maximised safety we also opted for an ADS-B transponder unit to ensure seamless integration and avoid conflict with traditional aviation."
To be able to offer a wide range of services Texo DSI needed interchangeable payload options, like advanced 30x optical zoom HD camera systems, thermal imaging, LiDAR and UV Corona applications to accommodate both maritime and land-based missions. All using a Long Range live HD Data link. The UAV system is upgraded with target tracking to accomodate observation and tracking ahead of large vessels with limited manoeuvrability.
TOP Engineering Group UAV Thailand
Flying intelligence, surveillance and reconnaissance (ISR) missions for navy and coast guards
Top Engineering Group sees potential in the HEF 32 UAS for maritime and navy related missions. The system is very manageable, it has a small footprint aboard vessels and it is easy to store and operate as it only needs 5 square meters to take-off and land.
"On board of vessels we absolutely need certain capabilities to operate safe and secure missions. For example the small footprint for storage and operations, the protection against rain (IP-67 rating), salt (anodised construction) and high interference levels (EMI shielding), the antenna with stabilisation and of course the long range capabilities to fly BVLOS missions. These unique characteristics are especially important in South East Asian climates and maritime conditions", Kornnarong says.
Kornnarong Tungfung, Managing Director/owner of TOP Engineering Group UAV can also see other opportunities to use the HEF 32 Remotely Piloted Aircraft System (RPAS), like aerial SAR (Search And Rescue) assistance, wind turbine blade inspection, oil spill detection and monitoring wildlife populations.
High Eye B.V.
Nieuwe Rijksweg 68d, 4128 BN, Lexmond, The Netherlands
+31 (0)34 7342631
info@higheye.com