The Kingdom of Denmark consists of Denmark, and the self-governing countries of Greenland and the Faroe Islands. Lying between Continental Europe and the Scandinavian Peninsula, Denmark separates the North Sea from the Baltic Sea, while it shares land borders to the south with Germany, and neighbours to the north with Norway and to the northeast with Sweden (across the sea). Its capital Copenhagen, is located on its largest island, Zealand, occupying part of its 7,314 km of total coastline. The Jutland peninsula and the some 406 Danish islands are connected by numerous bridges and ferries.
Despite its small size, Denmark is the most densely populated Nordic country (i.e. out of Denmark, Norway, Sweden, Finland and Iceland), with some 5.7 million people living in the mainland Danish territory (2016).
In terms of infrastructure, the country has a highly developed transportation network that includes 74,472km of road network, 2,633km railway, 111 sea ports and 23 airports (data 2015).
Denmark had been an agricultural country for thousands of years, managing to develop an advanced industrial base after World War II, accounting today for more than a quarter of the national GDP, while agriculture amounts to about 1%. Taking advantage of the country's geostrategic position, and given its limited size, the Danes have created over time (since the early 1990s), an export-oriented economy, allowing them to establish and maintain a welfare state. At the forefront of new developments in various fields, despite being affected many times by financial crises, the Danes evolved and adapted their exporting activities over the years. Therefore, Denmark exports today, food and energy products, as well as medical, shipping and IT services.
Danes enjoy a high level of prosperity, combined with a high degree of social balance. Income inequality is at the lowest levels, when compared with other OECD countries. In fact, as part of the state's welfare system, all Danes enjoy a number of services, free of charge; subsidised by the government, health and education services, are free for the citizens. Indicative is the fact that expenditure for social and health services, accounts for approximately 1/3 of the Danish Gross Domestic Product (GDP). As a result, a well-educated labour force, fully aligned with the needs of the Danish employment market and high R&D investment – the public sector invests about 1% of the GDP in such activities, while the private sector double that-, all contribute to the prosperity of the country.
As a result of the aforementioned, Denmark has turned to be a pioneer in many economic sectors, including the field of alternative energy, in which the country has set an ambitious target to achieve a "State of Green" by 2050. In addition, it has been found to be the "Happiest nation" in the world (according to the United Nations' "World Happiness Report" for 2016), and hence has operated as a paradigm for many countries worldwide (See Infographic below).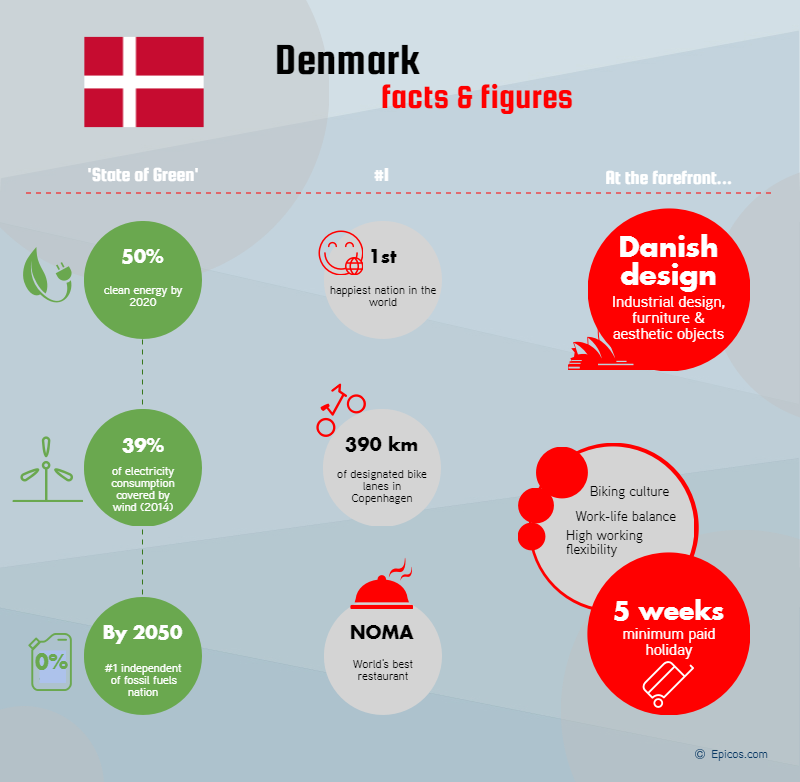 With Information Retrieved from http://denmark.dk/en/quick-facts/facts