Aug 30, 2017
SOURCE: Damen
Homeland Takes Delivery of DAMEN 3307 Patrol Vessel Guardian 3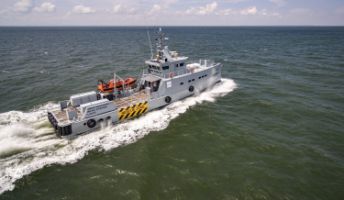 A Damen 3307 Patrol Vessel has been delivered to Homeland Integrated Offshore Services Ltd (Homeland) of Lagos, Nigeria, taking their fleet of these award-winning craft up to three in number. A fourth is also currently under construction. Guardian 3 along with its sister ships Guardian 1 and Guardian 2 is now providing security and other support services to the international offshore oil companies active off the coast of Nigeria in the Gulf of Guinea, in cooperation with the Nigerian Navy.
The Guardian series of 3307 Patrol vessels are themselves unarmed, but in the course of their duties carry security personnel along with their firearms. Protection for those on board is provided by an armoured wheelhouse and internal safe haven, while accommodation for up to 16 individuals enables them to remain at sea for extended periods of time.
Damen's 3307 Patrol design is exceptionally versatile and can be configured for a wide range of roles. Its axe-bow design and high-speed hull form delivers rapid acceleration and a top speed of around 30 knots, making them exceptional interceptors, each capable of providing a credible deterrent across wide areas of open sea. However with 70 m² of open aft deck they can also support offshore industries in a number of other ways, including crew transfers and equipment deliveries, quickly and safely in sea states that would leave conventional vessels struggling.
Additional features on board Guardian 3 include 15 extra seats for crew transfers, thermal imaging apparatus, a Fast Rescue Craft, a self-cleaning fuel separator to protect the engines and generators from contaminated fuel and a FuelTrax fuel management system that measures, monitors and reports on fuel consumption and efficiency. In-Country maintenance services and technical support will be provided by the Damen Service Hub in Port Harcourt.
"We are excited to have received our third FCS 3307 Security vessel from Damen Shipyards, whilst awaiting the delivery of the fourth in the 4th quarter of 2017 and the planned acquisition of the fifth vessel," stated Louis Ekere, Managing Director and CEO of Homeland. "Homeland is one of the few Government-approved, private maritime security companies operating in Nigeria, so the delivery of Guardian 3 has added tremendous value to our ability to provide turnkey security services to our clients and to meet their specific offshore and onshore deliverables; namely security protection of offshore oil and gas installations, passenger and crew transfers and emergency evacuation, cargo transfers and generally to provide security services to deter and intervene in piracy attacks which makes the maritime waterways safer for the benefit of all legitimate stakeholders."
"Damen has been a dependable partner," he continued, "and has collaborated with Homeland to achieve this exceptional feat. Congratulations to Homeland and to Damen."
View source version on Damen :
http://www.damen.com/en/news/2017/08/homeland_takes_delivery_of_damen_3307_patrol_vessel_guardian_3