Jun 9, 2020
SOURCE: Damen Schelde Naval Shipbuilding (DSNS)
DSNS and HML contract gives Combat Support Ship a lift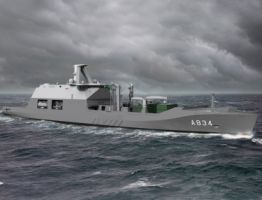 June 5, 2020 - On June 3rd Damen Schelde Naval Shipbuilding (DSNS) signed a contract with Holland Marine Lifts (HML) for the design, engineering, equipment manufacture and servicing of the ammunition elevator for the Royal Netherlands Navy's (RNLN) Combat Support Ship (CSS).
HML is a family-owned Dutch business based in Hendrik-Ido-Ambacht, renowned for creative and high-quality elevator solutions for the Netherlands' shipbuilding and offshore industries. Damen's cooperation with HML began in 2006, when DSNS contracted the company for the supply of the passenger elevator and a cargo elevator for Landing Platform Dock HNLMS Johan de Witt.
Since then, HML has collaborated with Damen on numerous projects including the ammunition and passenger elevators for the RNLN's Ocean-Going Patrol Vessels of the Holland Class and the Joint Support Ship HNLMS Karel Doorman. HML has also supplied ammunition elevators to the Moroccan Navy's SIGMA Frigates, the Mexican Navy's POLA Frigate and the Indonesian Navy's SIGMA Frigates, as well as cargo elevators for the Australian Antarctic Division's RSV Nuyina.
During these collaborations, Damen and HML have developed extensive experience. This has led to an increasingly high product quality and the development of further capabilities for complex projects. Continuing to work together ensures the companies can apply lessons learned from previous projects to the CSS.
Following the signing of the contract, HML will commence engineering. Equipment supply to the CSS is scheduled to begin mid-2021.
The same week, DSNS signed a contract with RH Marine for a container monitoring system for the CSS. This follows RH Marine's contract in March 2020 for design, engineering and equipment manufacturing for electrical, bridge and automation systems for this ship.
View source version on Damen Schelde Naval Shipbuilding (DSNS):
https://nlnavy.damen.com/dsns-and-hml-contract-gives-combat-support-ship-a-lift/