Mar 30, 2020
SOURCE: Damen
Damen making Progress with First two Contracts for the Combat Support Ship (CSS)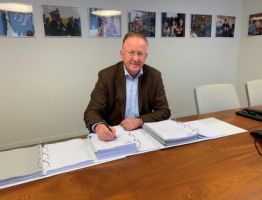 March 27, 2020 - Even during the Corona crisis, Damen is committed to remaining operational in order to continue the important projects for the Defence sector. The first two contracts for the Combat Support Ship (CSS) for the Royal Netherlands Navy were signed earlier this week, with a modified working method in accordance with the current guidelines of the Netherlands National Institute for Public Health and Environment.
RH Marine, leading system integrator and innovator of bridge systems, electrical and automation systems in the maritime industry, and Heinen & Hopman, worldwide specialist in the field of heating, ventilation, air conditioning and refrigeration systems (HVAC + R systems), will immediately start engineering, while the first supplies of equipment for the CSS are expected by mid-2021.
The Dutch subcontractors, our partners for all new construction projects for the Royal Netherlands Navy in recent decades, can now work together on more than 200 man-years of Dutch content. Together with Damen as main contractor and many other subcontractors participating, a large part of the Dutch naval shipbuilding sector are cooperating on this new and much needed ship.
The delivery of the CSS is scheduled for the second quarter of 2024. A year later, in the second quarter of 2025, the CSS must be operational.
(In the photo Mr. Hein van Ameijden, Managing Director, Damen Schelde Naval Shipbuilding)
View source version on Damen:
https://nlnavy.damen.com/damen-making-progress-with-first-two-contracts-for-the-combat-support-ship/