Jul 17, 2018
SOURCE: Terma
Terma and BAE Systems sign F-35 Long-Term Price Agreement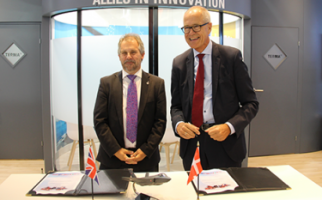 Today, Terma and BAE Systems signed a long-term price agreement for the manufacture of composite skins for all three variants of the F-35. The agreement is a continuation of a long-term agreement signed in 2013 covering the manufacture of Large Composite Skins for the Horizontal and Vertical Tail on all variants of the F-35.
The actual agreement includes the latest F-35 LRIP 12-14 program of record.
Terma has been collaborating with BAE Systems on the F-35 program since 2006 when the two companies signed a Letter of Intent for future partnership. In 2009, a contract was signed for the delivery of composite manufactured parts for the F-35.
Jens Maaløe, President & CEO, Terma, said: "This new signing further confirms Terma's strong position on the F-35 program and shows how collaboration can benefit Terma, BAE Systems, and the F-35 program as a whole. Through a major investment program over the past three years, Terma today offers one of Europe's most advanced and high-tech production facilities for the development and manufacture of composite parts for the aircraft industry."
Andrea Thompson, Senior Vice President - US Programmes, BAE Systems, commented: "We are delighted to sign this agreement with Terma which underpins our strong relationship and collaborative approach towards the F-35 program. Agreements such as this are a positive step towards achieving affordability targets across the program."
In 2016, the Danish Government announced Denmark's decision to acquire 27 F-35As as the future fighter aircraft as a replacement for the ageing F-16s.
Terma currently maintains eight different production programs within advanced composite and machined structural parts plus electronic components on the F-35. Terma has been involved in the program since 2002 when Denmark joined the F-35 program as a partner country.
View source version on Terma:
https://www.terma.com/press/news-2018/terma-and-bae-systems-sign-f-35-long-term-price-agreement/