Jan 30, 2019
SOURCE: Optex Systems
Optex Systems Announces $1.0 Million Order for M1 Abrams Tank Support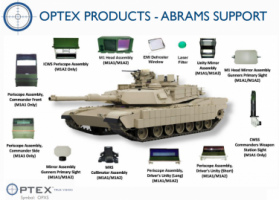 Optex Systems Holdings, Inc, a leading manufacturer of precision optical sighting systems for domestic and worldwide military and commercial applications, today announced a $1.0 million order associated with its continuing support of the M1 Abrams Tank Program. The products will be manufactured at the Applied Optics Center (AOC) Division of Optex Systems, Inc.
Bill Bates, GM of the AOC Division, commented, "We are very proud of our continuing support to our domestic customer for these optical components and the fact that AOC is one of the few, if not the only, qualified supplier of these difficult to manufacture items. AOC employees understand the importance of reliable products when it comes to protecting our troops and their ability to complete their mission."
This award is just one piece of a multi-year agreement to supply a variety of optical components in support of the Abrams program. The Abrams program is currently seeing resurgence in both new build and refurbishment activities which are expected to continue for a number of years.
With this order, Optex's current backlog stands at over $25.6 million.
View source version on Optex Systems:
https://ir.stockpr.com/optexsys/press-releases/detail/512/optex-systems-announces-1-0-million-order-for-m1-abrams