Oct 11, 2019
SOURCE: UVision Air Ltd.
Seoul ADEX 2019: UVision & Firstec Expand the Scope of Cooperation to Provide Logistics Services to South Korea's Armed Forces and Localization of Loitering Munitions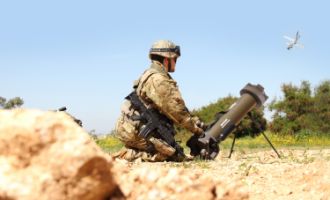 The expansion diversifies the fields of cooperation between the two companies and strengthens UVision's presence and activity in Korea in particular, and in the Asian region in general
Seoul ADEX 2019, Seoul Airport, Korea, October 15-20, Hall A, Stand 22
October 11, 2019 UVision Air Ltd. ‒ a global pioneer in the area of lethal loitering systems for a wide variety of missions ‒ expands its cooperation with Firstec Co. Ltd., of South Korea, to provide logistic services to the armed forces of The Republic of Korea (ROK) and localization of Loitering Munition.
Major General (Ret.) Avi Mizrachi, CEO of UVision, expressed great satisfaction regarding the strengthening of the relationship with Firstec ‒ a leading and long-established Korean manufacturer of military systems and components, and member of the Foosung Group.
According to Mr. Mizrachi, "This expansion is part of UVision's growing commitment to the Korean market ‒ which we see as strategic market. We have identified a need for systems such as our Hero-30 and Hero-120, which can deliver a more effective response to the operational challenges facing the Republic of Korea (ROK). In addition, we see South Korea as a technology leader, and therefore, an ideal starting point for the entire Asian market."
Firstec Co. Ltd., a UVision Korean business partner, has been marketing the HERO Series in South Korea for several years and has been enabling the introduction of UVision's Loitering Munition Systems into South Korea.
Over the past year, the collaboration between the companies has expanded to include additional areas of activity. The new agreement increases the opportunities for the two companies to cooperate in providing support and logistics services to the ROK's Armed Forces. In addition, it enables the implementation of localization processes for UVision products for the Korean Military.
UVision will showcase its Hero-30 and Hero-120 Lethal Loitering Munitions Systems at the Firstec booth at Seoul ADEX 2019 (Booth A-22).
Hero-30
Hero-30 – the leading product of UVision's Hero Family of Smart Loitering Munitions ‒ is lightweight, man-pack portable, easy to operate, and deployed within minutes. This system, which is already operationally deployed in military forces worldwide, is designed to deliver short-range pinpoint strikes in remote locations or in populated urban areas where speed of response to target acquisition and minimizing collateral damage are of prime importance.
Hero-30 is capable of speeds up to 100 knots, and has an endurance of up to 30 minutes. Easily mounted on military platforms, its pneumatic launch, low noise and low thermal signature make the Hero-30 a major asset to the fighting force.
Hero-120
Hero-120 is a portable, modular, customizable loitering weapon system which can be fitted with a range of powerful multi-purpose warheads. Its unique aerodynamic structure enables pinpoint strikes in populated urban areas or remote locations with minimal collateral damage. Its high-speed transit flight and low-speed loitering, BLOS capability, and rapid reaction in response to time-sensitive targets, deliver a critical advantage in confined and populated battlefields.
Its extended endurance of over an hour and its loitering range of up to 40 km enable independent operation by frontline forces, with precision strikes of time-sensitive targets. Featuring low acoustic, visual and thermal signatures and fully gimbaled and stabilized day/night tracking, the Hero-120 delivers critical situational awareness with its advanced data link and real-time intelligence. Recoverable using a parachute, the system is also cost-effective.
About Firstec
Established in 1975, Firstec Co. Ltd., a member of the Foosung Group, has been playing an important role in the professional national defense industry in the fields of Gun, Mobile Equipment, Guided Weapons and Aerospace Business. The company's main lines of products and fields of expertise are Autonomous Flight Technology, Flight Control Network, Actuation Mechanism, Heat-Fluid, Structure Analysis and Navigation Devices.
About UVision
UVision Air Ltd. designs and manufactures innovative, cost-effective, unmanned loitering munition systems for customers worldwide. With cutting-edge technology and 30 years of extensive field experience by a professional management team, UVision delivers highly innovative aerodynamic platform configurations.
The Hero series is comprised of advanced loitering munitions systems (Hero-20, Hero-30, Hero-70, Hero-120, Hero-250, Hero-400EC, Hero-900, Hero-1250), designed for different missions at various ranges using warheads of various types. The company's solutions are tailored for unique flight qualities, advanced airborne guidance and navigation systems, precision attack munitions and C4 stations fully integrated with communication links.
Extensive R&D has yielded a versatile series of loitering munition systems that are suitable for tactical and strategic targets ‒ whether for short, medium or long ranges – and with a variety of warheads to ensure maximum mission effectiveness.
With units deployed and field proven by the Israel Defense Forces and other customers – including leading NATO countries – UVision is fully committed to providing its extensive network of partners and customers located around the world with high quality and fast-response support.
For more information on UVision, please visit www.uvisionuav.com
Contact Details:
Ms. Ronit Konfidan
Marketing Communications Manager
UVision
Email: ronit.k@uvisionuav.com
Mobile: +972-52-3786665