Nov 13, 2019
SOURCE: Terma
Terma at Defence and Security 2019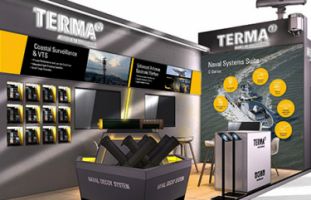 2019-11-13
Singapore, 11 November 2019– Meet our dedicated team during this year's Defense and Security 2019 in Bangkok, Thailand. We welcome partners, customers, and visitors on our stand K26.
"We look forward to meeting customers, industry partners, officers and maritime & security experts at our stand during Defense and Security 2019. This event in Bangkok enables us to showcase our key airborne, maritime, and security technologies and products to a prestigious and recognized audience," says Anupam Narain Mathur, Vice President & General Manager Terma Asia Pacific.
At the event, we will promote and showcase mission critical solutions, chosen by many armed forces around the world to effectively protect their assets on sea, land and in the air.
At standno. K26 key products and systems will be on display:
SCANTER surveillance radar
Terma is presenting state-of-the-art SCANTER radars, which are ideal for detecting and tracking non-cooperative small targets in extreme environments and adverse weather conditions. The SCANTER radar is the only radar sensor providing simultaneous small target detection and helicopter guidance. Our SCANTER portfolio includes specific solutions for naval radars, vessel traffic systems and coastal surveillance operations.
C-Flex Combat Management System
Learn how C-Flex, our flexible, scalable and modular command and control system, strengthens the operational capabilities of maritime forces by providing situational awareness and interoperability for combat and non-combat vessels to effectively conduct a wide range of missions from Air Defense and Anti-Submarine Warfare to Maritime Patrol, Law Enforcement, Search and Rescue (SAR), and Interception.
C-Guard Naval Decoy Launching System
C-Guard is an advanced naval self-defense system in service with leading navies around the world. C-Guard is capable of firing any type of 130 mm decoy to defeat all types of threats including heat-seeking, radar-guided and hybrid missile threats as well as incoming torpedoes.
Aircraft Survivability Equipment including 3D-Audio
More than 3,000 aircraft world-wide including jet fighters, transportation aircraft and helicopters rely on Terma's airborne solutions:
Terma's unique EW controller (ALQ-213), able to control and integrate any combination of best of breeds sensors and countermeasures systems, without regard to vendor;
A wide range of structural pods and pylons for non-complex aircraft installations with a minimum impact on the airframe;
3D-Audio solutions providing natural 360º sound environment, separation of the radio channels (e.g. VHF/UHF, warnings, intercom) and suppression of ambient and electric noises in the cockpit.
View source version on Terma:
https://www.terma.com/press/news-2019/terma-at-defense-and-security-2019/