Feb 10, 2020
SOURCE: BAE Systems
Loyal Wingman milestone welcomed by BAE Systems Australia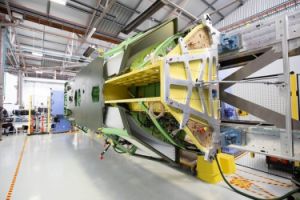 February 9, 2020 - BAE Systems Australia has welcomed today's announcement by Boeing Australia that major fuselage structural assembly on the first Loyal Wingman aircraft is now complete. The unmanned aircraft is one of three prototypes to be developed as a part of the Loyal Wingman Advanced Development Program, in partnership with the Royal Australian Air Force (RAAF).
BAE Systems Australia Chief Executive Officer, Gabby Costigan said; "BAE Systems Australia is proud to be working with Boeing in Australia to bring a new defence capability to life – one that offers enormous potential for the RAAF as well as future export markets."
BAE Systems Australia is a key program partner providing the unmanned flight vehicle management solution, flight vehicle simulation capability as well as delivering flight control computers and navigation equipment. The integration of these, along with Boeing's autonomous mission systems, brings together the two leading Australian companies in this technology area.
Earlier versions of the technologies used for this project have already supported Australian and UK Autonomy programs such as Taranis, Mantis and Kingfisher UAS demonstrators. More recently, they have been integrated in some M113 armoured vehicles in support of the Australian Army Robotics ad Autonomy Strategy activities. Autonomous technologies will support soldier responsiveness in an accelerating warfare environment – increasing their ability to outpace, out-manoeuvre and out-think conventional and unconventional threats.
View source version on BAE Systems:
https://www.baesystems.com/en-aus/article/loyal-wingman-milestone-welcomed-by-bae-systems-australia?utm_source=twitter&utm_medium=baesystemsaus&utm_campaign=SocialCT&utm_content=Post&utm_term=daab4069-ed14-4d3c-93e9-d82d4bffc7df