May 8, 2020
SOURCE: Damen Schelde Naval Shipbuilding
DSNS and Partners progressing with qualify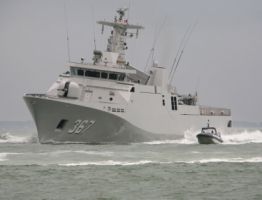 May 8 2020 - Damen Schelde Naval Shipbuilding (DSNS) is making good progress with its work on the QUALIFY project. DSNS is one of eleven project partners working towards the establishment of certification guidelines that will enable the use of hybrid bonds (e.g. steel to composite) on primary structures in the maritime industry. Through the project, the long-term behavior of such bonds will be analysed and demonstrated and, ultimately, promoted.
Losing weight, reducing emissions
The partnership – which along with DSNS features other organisations based in the Netherlands, including the Delft University of Technology (TU Delft) and project co-ordinator M2i (Materials Innovation Institute), a network organisation specialising in materials research – is testing an application case defined by DSNS. It involves the adhesion of a lightweight carbon fibre modular section of a superstructure of a 90-metre SIGMA corvette. The test case is significant as it has the potential to reduce the weight of the vessel by 10%. This has implications for the future sustainability of the maritime industry as it paves the way for a reduction in fuel consumption by up to 7% – and a considerable reduction in emissions.
Under observation
Currently, the partnership is preparing for a web conference, taking place on May12th. During the conference the partners will present their progress to the project's sixteen observers. The observers also feature organisations from the Netherlands, including the Dutch Ministry of Defence's Defence Materials Organisation (in Dutch Defensie Materiels Organisatie (DMO)) and Netherlands Maritime Technology (NMT).
From test to demonstration
At this stage of the project, the full scale test samples are in production at DSNS's Vlissingen East yard in the south west of the Netherlands. They will be tested later this year at TU Delft. Earlier tests have been conducted at the University of Ghent in Belgium and Cambridge University in the UK.
At the end of the project, DSNS intends to organise a demonstration day at its yard. Here, the project partners will present their results and the full scale samples will be displayed.
QUALIFY is funded by the European Union as part of the Interreg 2 Seas programme, facilitating cross-border cooperation between England, France, the Netherlands and Belgium (Flanders).
For the QUALIFY Project Movie click here
View source version on Damen Schelde Naval Shipbuilding:
https://nlnavy.damen.com/dsns-and-partners-progressing-with-qualify/