Last Update
October 1, 2020
Categories
Mechanical, Electro-mechanical, Hydraulic and Pneumatic components
Metal Processing, Parts & Components
VDL Enabling Technologies Group is a tier-one contract manufacturing partner, operating world-wide. The company's customers are leading high-tech Original Equipment Manufacturing companies and users of advanced production lines. VDL goal is to outperform customer expectations in delivering mechatronic solutions.
The company has built its track record in the following markets: semiconductor capital equipment, thin film deposition equipment for photovolaic solar systems, analytical instruments, medical systems, aerospace & defense parts and systems and mechanisation projects.
VDL services include prototyping, the prime activity for VDL ETG Research, customer specific factory automation projects, the focus of VDL ETG Projects and series manufacturing of 'high-mix low-volume' products, daily business in all other VDL ETG locations.
Under the Philips flag the company developed to become a worldwide supplier of advanced mechanical components, modules and complete systems. Inclusion in the VDL Groep offered the company even more opportunities for global leadership.
VDL is committed to supporting customers wherever they have manufacturing facilities. The company's sites in Eindhoven and Almelo (the Netherlands), Singapore and Suzhou (China) are testimony to this.
History
1900 The company is established as Philips Machine Factories. It has over 100 years experience in the development and manufacturing of advanced production lines for products ranging from light-bulbs to displays.
1980 With the growth of Philips' activities in the sector Science & Industry the company developed to a mechatronic system manufacturing partner. Relationships with current OEM companies like ASML and FEI originate from the co-operation within the Philips company in these days.
1990 The Philips Machine Factories develop to become a global player, offering integrated solutions to Philips and to other customers.
2000 The name of the company was changed into Philips Enabling Technologies Group.
2006 The VDL Groep acquires the company. The VDL Groep consists of over 77 manufacturing companies. VDL Enabling Technologies Group continues its development with the support of a strong and committed parent.
Quality
VDL understands that high quality is vital to customers' business success.
VDL Enabling Technologies Group is ISO 9001 and ISO 14001 certified.
For the medical equipment market it is ISO 13485 certified and for the aerospace business it is AS 9100B certified.
QLTC
As a contract manufacturing partner VDL focuses on QLTC performance which is the life line of the company. QLTC is short for Quality, Logistics, Technology and Costs. With its competences and knowledge the company is able to serve customers through the complete life cycle of their products.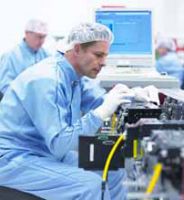 Semiconductor Equipment
VDL Enabling Technologies Group is involved in equipment manufacturing for many procceses that are used in semiconductor device fabrication:

Front-end processing
Wafer sawing
Thin film depositioning (CVD, PVD)
Lithography
Ion Implantation
Etching
Furnace annealing
Rapid thermal processing
Back-end Processing
Wafer dicing
Die & wire-bonding
Packaging
Testing
Surface Mount Technology
Analytical instruments
Based on sub-micron precision machining competences and experience with complex system integration VDL Enabling Technologies Group builds amongst others the best electron microscopes.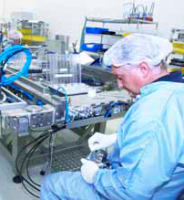 Aerospace & Defense
VDL Enabling Technologies Group manufactures precision parts, assemblies and tools for aerospace and military applications.

High speed machining of lightweight structural components is one of our core competences.

A dedicated team which has extensive experience with these applications is constantly improving our services in order to exceed the high requirements of our customers.

System integration
Next to the manufacturing of complex components VDL ETG is specialized in the integration of advanced systems and modules, of which a flight simulator (shown on the left) is a good example.
Solar Equipment
VDL Enabling Technologies Group builds for its customers vacuum deposition equipment for photovoltaic solar applications, based on crystalline and thin film technology.

The manufacturing of machined and welded aluminum and steel vacuum chambers, small or large in size, is one of our key competencies. Around these process chambers we build the complete systems, we test them and ship them to our customers or directly to the end users.

Designing and building equipment for handling of the substrate, from wafers to large glass panels is one of the other strenghts that VDL ETG has to offer.

The company is extremely cost-aware
The solar world demands continuous price reductions, which cannot be achieved by efficiency improvements alone. This is the reason VDL places such importance on value analysis and value engineering. VDL also provides for an efficient, world-wide supply chain.
Medical
VDL ETG is a reliable supplier for manufacturers of medical equipment. The company delivers high-quality components and complete mechatronic products such as patient tables. The market is distinguished by the rapid tempo, innovational strength and cost reductions. VDL capitalises on these aspects and is pleased to work co-operatively with clients, often at an ever earlier stage.

VDL ETG IS ISO 13485 certified
The combination of a long relationship with the Philips organisation and the high standards of quality that VDL has developed over the years ensures that customers' product meets all requirements that the medical industry demands.

VDL employs the full spectrum of its knowledge
VDL ETG is active in various markets, including the semiconductor capital equipment market. The company's knowledge and skills in the semicon field, in the areas of mechatronics and precision engineering for instance, stand VDL in good stead in the medical industry.

VDL is extremely cost-aware
The medical world demands continuous price reductions, but these cannot be achieved by efficiency improvements only. This is the reason VDL places such importance on value analysis and value engineering. The company also provides for an efficient supply chain.

Increasingly, clients ask VDL to take responsibility for a portion of their inventory management. The company assumes responsibility for keeping track of exactly when which products must be delivered. That ensures efficiency and flexibility.
Production automation
Mechanisation projects are VDL ETG speciality. More than a century ago, the company was founded to provide Philips divisions with the right machines. Now VDL supplies turnkey production lines to manufacturers in a growing number of industrial branches, including lighting, food and beverage, semiconductors, and medical and electronic components. This enables the company to take advantage of a crossover of experience.

VDL ETG serves customers' request wherever they are
VDL ETG develops, manufactures, assembles, installs and commissions one-off projects and roll-outs all over the world. VDL ETG has a proven track record of turning creative ideas into operational reality. The company's strength lies in its experience with managing a product from an initial concept up to an up-and-running installation. VDL ETG provides broad expertise to complement customers' process know-how.

From user requirements to installation
VDL ETG takes care of the mechanical, electrical and software design. Development of turnkey production lines consists of four phases:

Initiative:
VDL ETG identifies customers' requirements and propose a suitable solution.

Definition:
VDL ETG formulates a system architecture and carries out feasibility studies and functional modelling.

Design:
VDL ETG produces detailed drawings and specifications.

Realisation:
VDL ETG procures and produces components and modules. The company assembles, performs tests on, installs and commissions the complete production line.
Machining
VDL Enabling Technologies Group uses the best machining equipment available in terms of precision and efficiency.

Milling and turning capabilities range from sub-micron machining of optical components with diamond cutting tools to high speed manufacturing of large vacuum chambers from a solid block of material.

VDL ETG likes to be tested with machining challanges that come with the use of exotic materials and extreme tolerances.

Special processes include ultrasonic machining, EDM and ECM.

Ultra precision machining
Parts with accuracies in the sub-micron area, usually with a high demand on surface finish. Examples are optical components and air bearing systems. Manufacturing can be done for prototypes, small series or larger batches.

A highly skilled workforce, pushing the limits
The optimum result can only be obtained with a highly motivated and skilled team. This is true for all levels in the organization. VDL ETG craftsmen and specialists are continuously pushing the limts of what can be achieved, in terms of use of their machining tools and methods and in terms of their own development.
Sheet metal
VDL Enabling Technologies Group has extensive experience in the fabrication of precision constructions based on welded or brazed sheet metal components. In this way precise, lightweight and stiff frames can be fabricated that can beat alternative solutions in terms of cost price.

Special applications
VDL ETG uses a wide range of cutting, forming, welding, brazing and glueing techniques, each optimized for a specific application. In this way very special assemblies have been manufactured, often operating in a demanding environment such as an ultra high vacuum environment. In these cases often exotic materials come into play.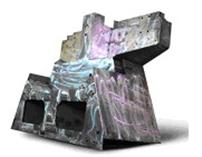 Welding
VDL Enabling Technologies Group has qualified craftsmen and processes for a wide range of welding applications. These applications range from large welded vacuum chambers for various vacuum levels made from steel or aluminum to microwelded assemblies for scientific instruments.

Next to manual MIG, TIG and laserwelding also robotic welding and orbital welding is being used.

Extreme specifications are what we like best. Precision welding where the utmost control over heat input is needed to ensure that material properties change only in a limited and controlled fashion and product accuracy is maintained is one of those areas.

Continuous development of new technology
VDL ETG knows the optimum welding strategy for each product. And in case we don't know it, we'll learn and develop our capabilities to the next level. Also we are constantly monitoring and evaluating new welding technologies that are being developed in the world.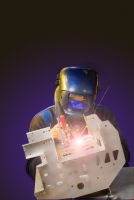 Supply Chain Management
Covering the complete value chain
VDL ETG excels in the engineering and manufacturing of highly-complex mechatronic parts, systems and modules for OEM customers in the high-tech capital equipment industry. As a system supplier, we cover the complete value chain. We don't have any products of our own. Instead, we develop or co-develop and manufacture your products – on demand, on time and to the very highest technical specifications.

We control the supply chain
We complement our own specialties with those of a global network of carefully selected partners. Supply chain management is all about balancing flexibility, consistency, reliability and cost – within a set time frame.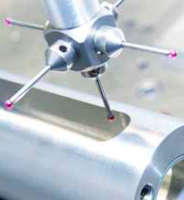 System Integration
VDL Enabling Technologies Group takes full responsibility to build your system according to specification. All preparations come together during system integration: in-house manufactured critical make-parts, other make-parts that can be outsourced or made in-house depending on the workload, all buy-parts procured in our extensive supply chain. Well-trained assembly personnel integrate the modules and systems completely using detailed assembly and testing procedures.

Experience
In order to quickly be able to build, analyse and debug a new system it's essential to understand it. Experience with comparable systems, sometimes forerunners, helps to have a short response time. At VDL ETG we have a lifelong relationship with Philips Research and Philips AppTech, the origin of world class semiconductor equipment OEM's such as ASML, FEI and Assembléon, but also for instance for Philips Healthcare. This gives us a very wide range of invaluable experience.

Cleanroom, whiteroom and grayroom assembly
For each type of product we have the right type of integration and test facility: large cleanroom asssembly and testing area's with various grades for semiconductor and analytical equipment, clean area's for medical and solar equipment, general assembly space for other equipment.
New Product Introduction
In to-days global competitive environment introducing a new product to the market in the right way is of crucial importance. In terms of product specification, build quality, time-to-market and cost price control VDL Enabling Technologies can make the difference between failure and success. We have a long track record in bringing new products of our customers to the market, in many cases preceded by a joint development phase during which we manufacture one or more functional models, prototypes and a pilot version of the product.
We have developed a complete set of tools aimed at fast manufacturing of equipment, even during the product development phase, based on uncompleted product documen-
tation.
It is of paramount importance to drive the price of an expensive prototype down to levels that are acceptable for market introduction. In order to do so one needs to have an integral view of all sorts of manufacturing techniques for the parts, be innovative in ways of assembly and know how to modify a construction in order to find the optimum combination of product functioning and manufacturability.
Product co-development and Engineering
VDL ETG can add value to your product in all stages of its life cycle. Early involvement in new developments enables us to jointly take design decisions that form the basis of a good performance on all aspects: quality, logistics, technical specification and costs. We have an experienced, multidisciplinary team of engineers and all required CAD tools in house in order to get up to speed in no time with a new development or value engineering project.

Process development
Our key competence is continuous development of our manufacturing processes. Our technical experts can translate your product requirements to optimum manufacturing processes in our factories.

Design for eXcellence
In the development of a new product our customers typically focus on their core processes; VDL ETG's added value can be found in design advice during the product development phase related to choice of materials, choice of manufacturing techniques, lead time of certain components, ease of assembly, ease of serviceability and cost price in general. In an early stage we are getting ready for future series manufacturing. One technical team on our side manages your product through the consecutive development phases irrespective of the build location. VDL ETG can also take responsibility for a part of the product design in order to further shorten the time between conceptual design choices and the first product on the floor.

Prototyping
One of VDL ETG's core competences is to assist in Research and Development by realization of the required mechatronic tools: process equipment, product prototypes, test and measurement tools etcetra. Our presence at the High Tech Campus in Eindhoven ensures short communication lines with many specialists that are close at hand. Our own specialists have a rich experience in many different manufacturing technologies and in integration of highly complex equipment. Our workshops are equipped with the latest machining tools, ensuring the highest possible level of machining accuracy. The PDF documents that you can download here give a good impression of what we can offer.
Capabilities informational files
Program & project management
VDL Enabling Technologies Group offers more than just manufacturing. Whether you want to expand a product line, launch a prototype program or kick-off a value-engineering project, we raise the quality of your products while lowering cost.

You can count on your VDL ETG partnership. Quality, technology, service and expertise from around the world allow you to get more from your manufacturing partner. We're always ready and prepared to be quick and responsive. And we always put the customer first. We help you become more successful by providing competence, dedication, willingness and a fighting spirit.

Business case
We take your business case as starting point and keep it in focus at all times.

We developed a high standard in program and project management in order to offer design, manufacturing and logistics solutions that will impact your bottom line!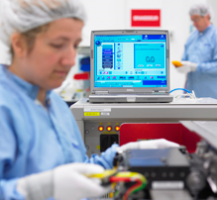 VDL Enabling Technologies Group
Achtseweg Noord 5 P.O. Box 80038, 5600 JW, Eindhoven, The Netherlands
+31 (0)40 263 88 88
+31 (0)40 263 82 40
info@vdletg.com