May 10, 2022
SOURCE: WB GROUP
WB GROUP will supply the GLADIUS system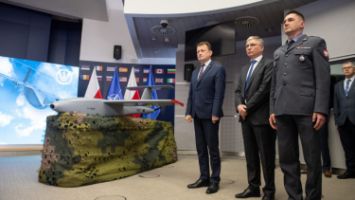 May 6, 2022 - In the presence of the Minister of National Defense, Mariusz Błaszczak, the president of the WB GROUP, Piotr Wojciechowski, signed a contract with the head of the Armaments Agency, Colonel Artur Kuptel, for the supply of GLADIUS unmanned search and attack systems.
The contract covers the delivery for the Rocket Forces and Artillery of four battery modules for GLADIUS unmanned search and strike systems along with training and logistics packages. The battery module will include launchers, command vehicles, ammunition and maintenance vehicles, and a stock of GLADIUS unmanned aerial vehicles (BSP-U).
- The GLADIUS project is not only a sword. They are also eyes, ears and brain, it is a complex reconnaissance and impact system based on products of Polish industry known to experts. The project implements extensive experience gathered over the years, including from a high-intensity conflict in which strong anti-aircraft defense and radio-electronic warfare are operating . - said Piotr Wojciechowski, president of the WB GROUP, during the signing of the contract.
Battery modules of GLADIUS unmanned search and shock systems will be intended for aerial imaging reconnaissance with the use of FT-5 family unmanned aerial vehicles (UAV). They will be equipped with, inter alia, optoelectronic heads, enabling image registration both in daylight and with the use of thermal imaging.
- The Polish Army receives a very modern product, developed by Polish engineers, manufactured in Poland in the Polish plants of the WB GROUP with extensive cooperation with the entire Polish defense industry, the PGZ Group and many other entities. Due to the fact that the GLADIUS system was based on already existing Polish products, the first deliveries will take place this year. Subsequent phases of the project will enrich this system with new functions as new experiences are gained . - added Piotr Wojciechowski.
GLADIUS Unmanned Strike Unmanned Aerial Vehicles (BSP-U) will act as effectors of the search and shock system. They will be integrated with the integrated battlefield management system TOPAZ used by the Polish Armed Forces , developed by the WB GROUP.
- GLADIUS is a 100% Polish product, developed by Polish engineers. During its development, it opens up opportunities to build many jobs for young people - specialists in the field of electronics, computer science, mechatronics, materials techniques and mathematics. We see opportunities in this project for the development of a unique and deadly effective product. Thanks to the GLADIUS project, Polish industry and the armed forces enter the era of artificial intelligence and battlefield automation . - said the president of the WB GROUP.
The logistic package of the system includes the delivery of maintenance kits and the service of unmanned aerial vehicles. As part of the training package, including staff training, training unmanned aerial vehicles and simulators of the GLADIUS unmanned search and attack system will be acquired.
View source version on WB GROUP:
https://www.wbgroup.pl/aktualnosci/grupa-wb-dostarczy-system-gladius/