Jan 4, 2023
SOURCE: Elbit Systems Ltd
Elbit Systems E-LynX Software Defined Radio Selected again by the Spanish Army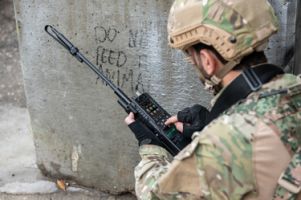 Haifa, Israel, January 4, 2023 – Elbit Systems Ltd. (NASDAQ:ESLT and TASE: ESLT) ("Elbit Systems" or the "Company") announced today that its – E-LynX™ tactical Software Defined Radio (SDR) solution was selected by the Spanish Ministry of Defense Directorate-General for Armament and Material (DGAM) for the "URGENT ACQUISITION OF V/UHF SDR RADIO EQUIPMENT" program.
This follows the Spanish MOD's selection of the E-LynX™ SDR solution for its combat battalions in November 2020, and for its 8×8 Dragon Vehicles in November 2021.
The E-LynX™ SDR solution will be manufactured and maintained in Spain as a national sovereign radio, equipped with Spain's national crypto solution, through the cooperation between Telefonica and Elbit Systems.
Designed in an open architecture approach, the E-LynX™ family of SDR systems provides interoperable multi-channel network capacity, capable of dynamic and autonomous optimization of spectrum resources and concurrent mission execution while maintaining fast, resilient and secure communications in any terrain.
Haim Delmar, General Manager of Elbit System C4I & Cyber: "We are proud to provide our cutting-edge network and radio technology to the Spanish Army. This contract further validates the technological and operational advantages of our software defined radios. We remain committed to providing a Spanish soverign radio and supporting the Spanish defense industry and its Armed Forces."
About Elbit Systems
Elbit Systems Ltd. is an international high technology company engaged in a wide range of defense, homeland security and commercial programs throughout the world. The Company, which includes Elbit Systems and its subsidiaries, operates in the areas of aerospace, land and naval systems, command, control, communications, computers, intelligence surveillance and reconnaissance ("C4ISR"), unmanned aircraft systems, advanced electro-optics, electro-optic space systems, EW suites, signal intelligence systems, data links and communications systems, radios, cyber-based systems and munitions. The Company also focuses on the upgrading of existing platforms, developing new technologies for defense, homeland security and commercial applications and providing a range of support services, including training and simulation systems.
For additional information, visit: https://elbitsystems.com, follow us on Twitter or visit our official Facebook, Youtube and LinkedIn Channels.
Company Contact:
Joseph Gaspar, Senior EVP – Business Management
Tel: +972-77-2948661
j.gaspar@elbitsystems.com
Dr. Yaacov (Kobi) Kagan, EVP & Chief Financial Officer
Tel: +972-77-2946663
kobi.kagan@elbitsystems.com
Rami Myerson, Director, Investor Relations
Tel: +972-77-2948984
rami.myerson@elbitsystems.com
Dalia Bodinger, VP, Communication & Brand
Tel: 972-77-2947602
dalia.bodinger@elbitsystems.com
IR Contact:
Ehud Helft
Kenny Green
GK Investor Relations
Tel: 1-646-201-9246
elbitsystems@gkir.com
View source version on Elbit Systems Ltd:
https://elbitsystems.com/pr-new/elbit-systems-e-lynx-software-defined-radio-selected-again-by-the-spanish-army/