Apr 27, 2023
Safran on board the Eurodrone programme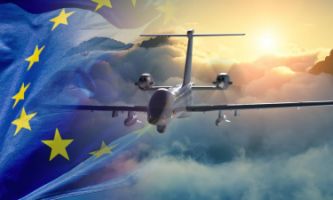 Vélizy, April 25 2023 - Safran Landing Systems has signed a contract with Airbus Defence and Space to provide the wheels and brakes system work package for the Eurodrone, Europe's new MALE RPAS (Medium Altitude Long Endurance Remotely Piloted Aircraft System) reconnaissance drone.
Safran Landing Systems was selected to design, develop, qualify and produce the work package including wheels, brakes and hydro-mechanical equipment, and to supply the braking control module, to be developed by Safran Electronics & Defense, the company's partner on this programme.
The contract comprises 60 shipsets.
"We are proud to work on this programme with Airbus Defence and Space. It's an opportunity to demonstrate both our know-how and ability to develop the technologies that will equip this unprecedented new military system. We are looking forward to meeting a number of technical challenges on this programme, especially weight reduction, and delivering the best possible value proposition to our customer!" François Bastin, Safran Landing Systems CEO
Safran Electronics & Defense has also won a contract from Leonardo to develop and supply the high-performance EuroflirTM 610 electro-optical (optronic) system, for the Eurodrone.
The Eurodrone programme is designed to outfit France, Germany, Spain and Italy with a highly autonomous medium-altitude reconnaissance drone, thus bolstering the European Union's operational and industrial sovereignty.
Production of the first prototype should start in 2024 with a first delivery planned by the end of the decade.
Contact Us
COMMUNICATIONS DIRECTOR
Virginie Combes
Safran Landing Systems
+33 6 82 32 25 06
virginie.combes@safrangroup.com
HEAD OF MEDIA RELATIONS / DEPUTY DIRECTOR OF COMMUNICATIONS
Christopher Constans
Safran Landing Systems
+33 6 08 57 32 54
christopher.constans@safrangroup.com
View source version:
https://www.safran-group.com/pressroom/safran-board-eurodrone-programme-2023-04-25